Quick start guide for the user: ProCall 7 Enterprise client for Microsoft Windows
An overview of essential functions
| | |
| --- | --- |
| State of knowledge | December 2022 |
| Relevance | ProCall 7 Enterprise |
ProCall main window with your favorites
The estos ProCall main window gives you access to all the features that support you in your daily work.
At the top: the "My presence" area for your settings

Here you can manage the settings for your presence and communication:
Set up your extension and lines

and, for example, activate call protection
Change your presenceand set an out of office message if necessary
Manage presence profiles

See free communication channels at a glance
Search for contacts and numbers

You can use the Search function to search all connected contact databases (e.g. from Microsoft Outlook or CRM system) for a number or a contact or search term.
With an intelligent search entry (search parameters separated by commas) even more complex search queries are possible.
Favorites
Set up your favorites, assign them to groups, and see their presence and availability:

By right-clicking on a contact, you can see detailed information about the contact and can immediately start or plan communication activities.


The communication icons

in Favorites show you which communication channel is currently available for this contact or whether call protection or call forwarding is configured, or an appointment is pending.
By right-clicking on the group assignment you can change the view on Favorites, in order to sort or add contacts.
Journal
Follow up on unprocessed or planned actions
The button

provides you with even more options.
Start

ProCall Monitor

Start journal browser
Settings
Here you can configure your client
Inbox
Help
Info

about

ProCall
Version info, information about the detected installation environment, license notes and an expert view for detailed information about creating log files and setting the debug level for error analysis).
End ProCall
Overview over your contacts – ProCall monitor

Overview of your contacts, sort by groups, see presence and availability and start communication actions.
How do I start the ProCall Monitor?
From the ProCall main window via the

button.
Actions in the ProCall Monitor
In Actions in the menu, you can
Create a new group
Contact search
Exit/Close ProCall Monitor
Customize view
In View in the header bar, you can set the width and arrangement for displaying the contacts and title bars and determine where on your screen the ProCall Monitor should be displayed. For a better overview, you can define here whether unregistered contacts should appear in the display (Hide contacts). You can make the display of the contacts clearer by Assigning the contacts to groups, for example, the Marketing or Sales group. Groups also define the pre-selection of participants in a GroupChat.
Further setting options for viewing the ProCall Monitor are available in the ProCall Client main window via the

button under Settings: General – View. Here you can set, for example, how detailed the display should be for each contact or display contacts with a colored background.
Extras
Help
Under License Information you will find a list of the used licenses of open-source software.
Phone with ProCall – your extension is always under your control
Define a default line and specify settings for phone calls
If you are using multiple lines, you can click on a line/extension/dialing extension to set it as the default. Each telephony action performed in ProCall Enterprise (e.g. call contact) is used for dialing.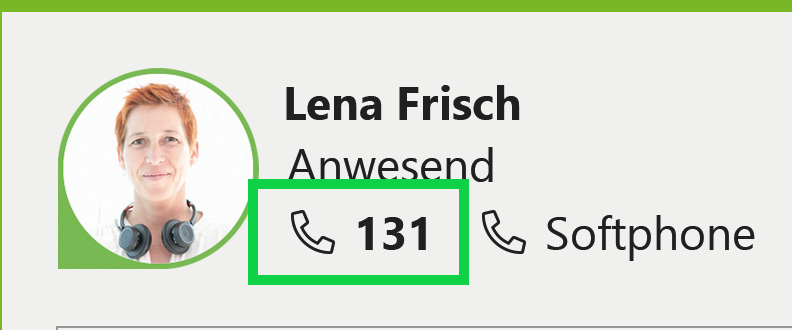 With a right-click on the line/extension it is possible to make further settings:
Name the line e.g. mobile
Configure and set/remove call forwarding
Set/remove call protection
Remote office on/off
Call number suppression on/off
Telephoning – starting a call
Search contact or enter the number directly in the search line
Double click on a contact
Context menu (right-click) on the contact in the favorites with the phone number selection
Accept incoming calls – the communication window
When an incoming call is received, the ProCall communication window opens. Here information about the caller is displayed before you answer the call.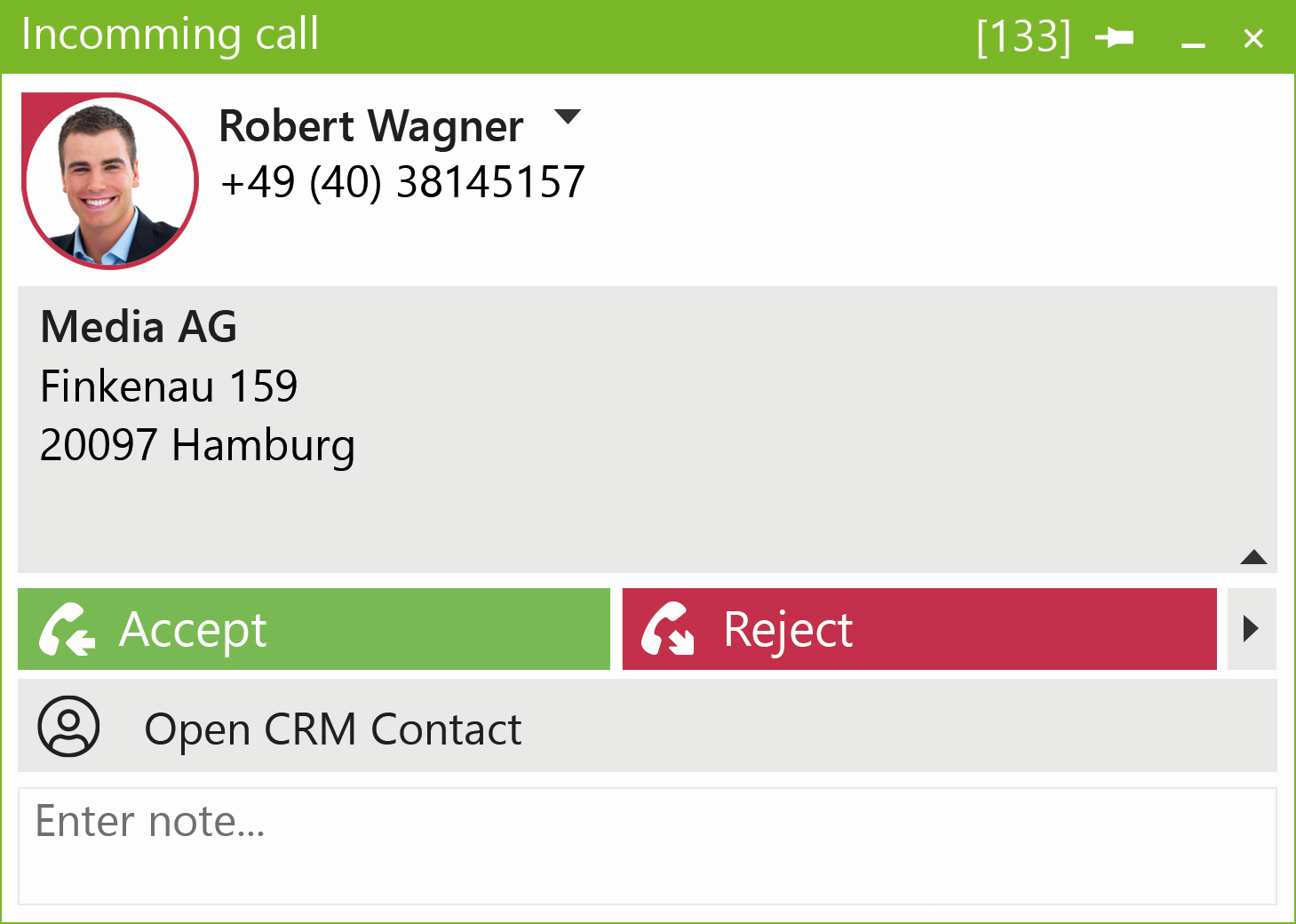 You can answer an incoming call simply by mouse click or by a hotkey (predefined keys such as F8 to answer call and F9 to hang up).
Further possibilities
Reject/end call
Hold call
Initiate consultation and e.g. initiate a telephone conference with several participants
Forward call


in conversation
before taking over the call

Show keypad for DTMF input of post dialing functions

Start call recording
Mute microphone
My audio/video devices: Switch multimedia devices for voice input (microphone) and output (loudspeaker) during ongoing calls via softphone

What information about the caller is displayed in the communication window depends on the configuration of the available data sources.
The display and available actions can be extended within CEBP (Communication Enabled Business Processes).
Plan or prepare a call
With ProCall Enterprise you can schedule a call and track its status. Notes can be saved for each scheduled call and a reminder can be set up if desired. You can schedule a call by right-clicking on a contact in ProCall Enterprise and selecting "Schedule call".
Store call notes
Notes can be entered during and after a call. The data entered is automatically stored in the ProCall Enterprise journal folder and is therefore available for review at any time. Of course, this also applies to the users of the group journal and their notes entered.
Start TextChat or VideoChat or share your screen
In a chat you can use the following communication options:
TextChat
AudioChat
VideoChat
Give or request screen sharing
Which communication actions are available to you depends, among other things, on the ProCall version, technical equipment and permissions granted.
You can start a chat either via the context menu or the quick launch bar.
During the chat you can:
Share your screen (desktop sharing) and additionally allow control.
If you use multiple screens, you can define here which screen you want to share.

Request view and control for your conversation partner's screen.
Use Emojis

TextChat
You can easily write messages to contacts in real-time and also use emojis/smileys and send files.
Example of a TextChat and content sharing in ProCall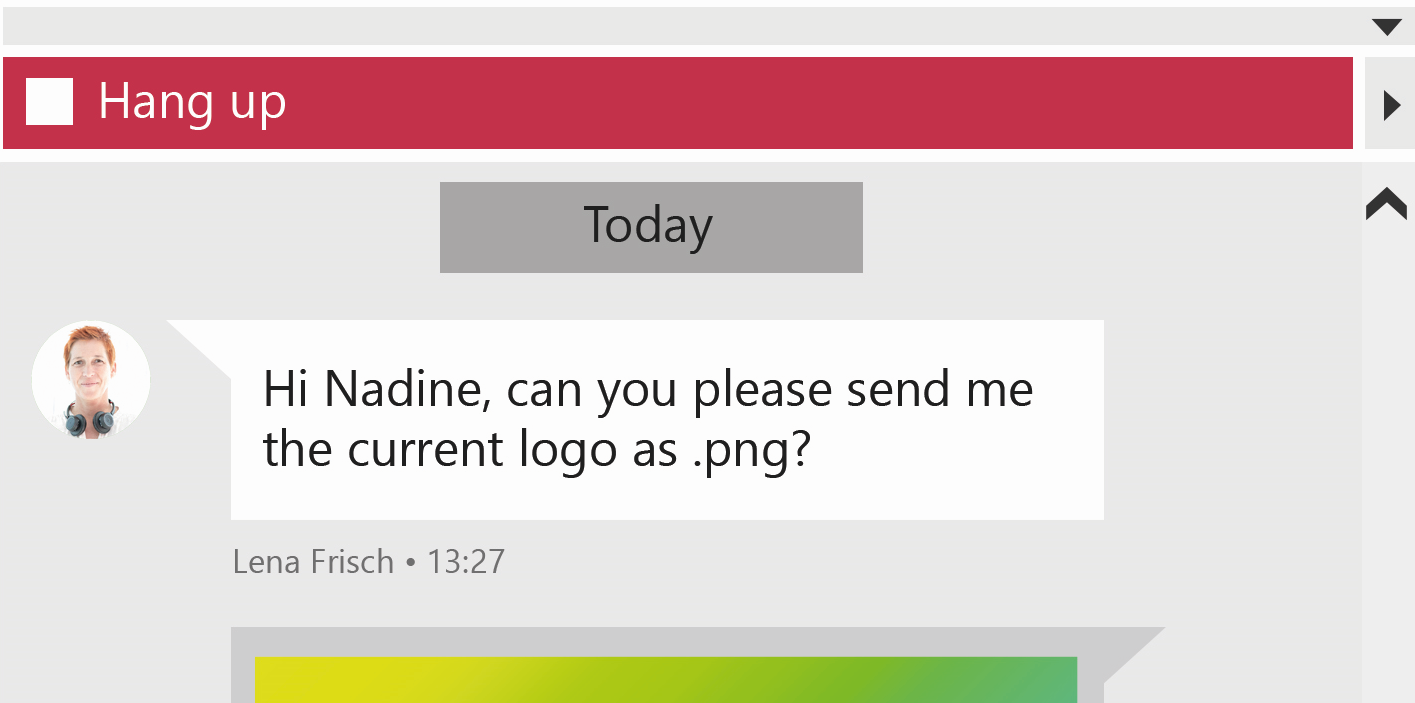 Checkmarks behind your messages show the delivery status of your messages with time.

Audio/Video communication
After you have configured your devices for audio/video communication in ProCall, you can immediately establish an audio/video chat with another contact.
During the conversation, you can deactivate the A/V devices or end the call. You can see the duration of the connection

and the connection quality.

Example of a VideoChat with TextChat and the possibility of screen sharing in ProCall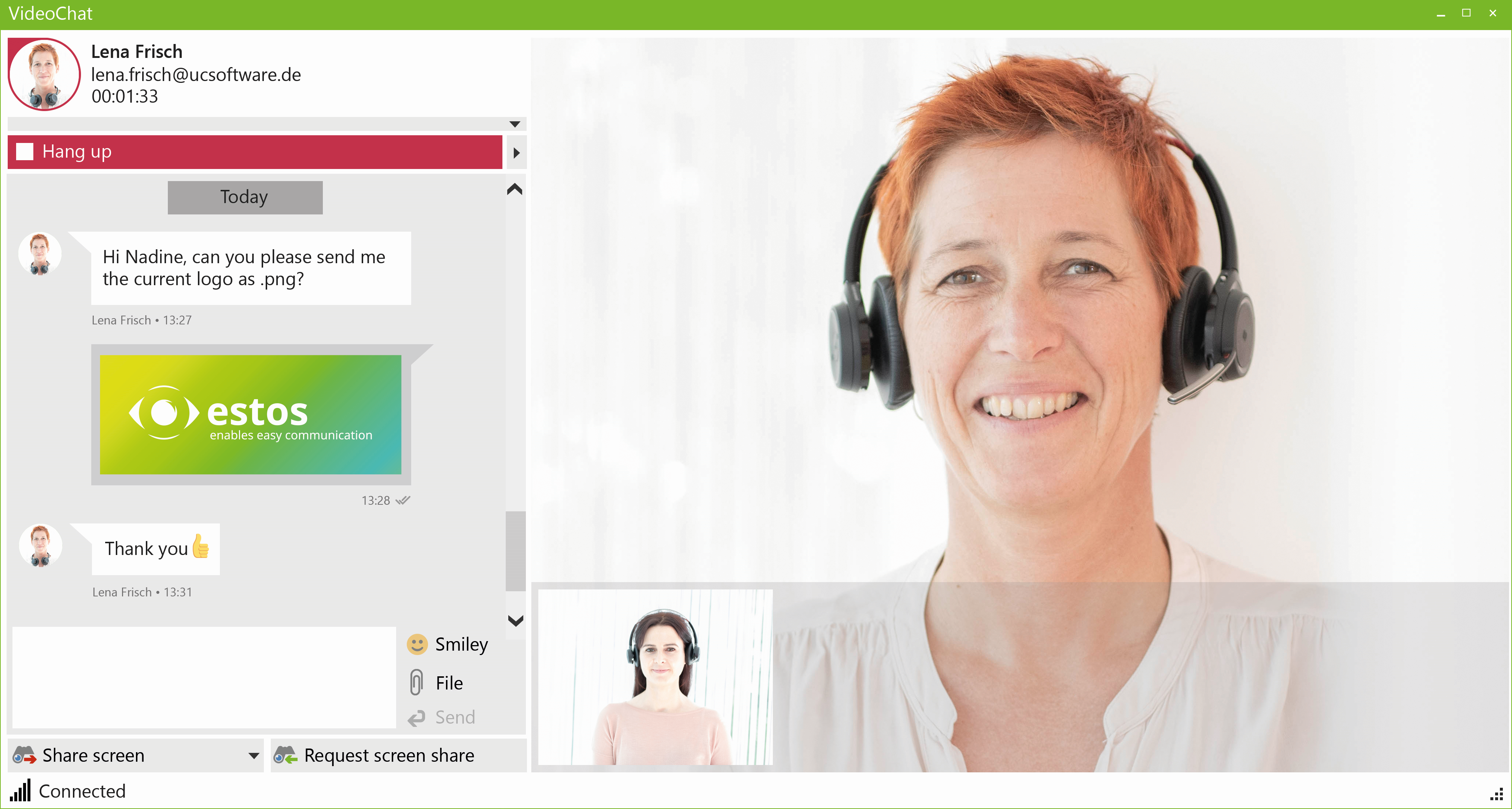 Screen sharing
You can share your own screen with the person you are talking to or request a screen share from them.
In screen sharing, you can also "Allow control", so that your call partner can take control of your screen contents.
If you use multiple screens, you can select which screen you want to share.

Federation

Not all presence information and communication actions are available for contacts who are connected to your company via federation, for example.
More Information
Overview of your communication actions – journal and journal-browser
Journal
Your personal journal
Conversations are archived in a personal journal. For a better overview of all communication actions, various filters are available, which allow you to clearly arrange the displayed entries. For example, you can also store the notes that you have entered for a conversation.
You can define a time period for the entries displayed in the journal (for example, today, this week, this month) and group them by days or by contacts and rearrange or hide the available fields like date or type with a right mouse click.
Grouped by days
For example, the type field uses icons to show you whether you can communicate with your conversation partner by phone

, AudioChat

, VideoChat

, TextChat

or with screen sharing

.
The arrows next to it


show the direction of the call. An exclamation mark

is displayed if the connection could not be established.
Grouped by contacts
For a contact or group chat, the available photo is displayed. If no photo is available, the initials of a single contact are displayed. Unknown contacts or group chats for which no information is available can be recognized by a dummy picture, a group chat by the

symbol.
You can identify the presence and availability of a contact by the color and orientation of the contact's border, for example, red and orientation to the upper left for Not available.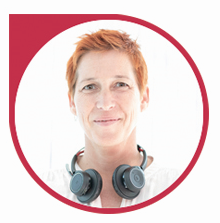 For each contact you can see which communication actions




you have had, the duration or type in brackets: (5 min), (Missed call) (the contents of the chat message e.g. "Hello, Nadine, thanks for the info").
Update display
With the F5 key or by right-clicking on a date you can update the display.
Group journal
Teams can be administratively represented by so-called groups and permission to view the group journal can be assigned. All authorized users of a group have access to the journal entries of the members of a group and can, for example, view colleagues' notes and therefore optimally prepare for a meeting.
Journal of other contacts/favorites
If you have the appropriate permission, you can also view the journal of other contacts. The contact details of a favorite allow you to view their personal journal and thus their communication actions.
Where can I find the Journal?
In the ProCall main window in the Journal tab.
Journal browser
An additional possibility to keep an overview of your communication actions and to apply further filter options can be found in the Journal Browser. Here you can use even more detailed options to view, print, or export the individual communication actions, contacts, incoming and outgoing communication actions.
Where can I find the Journal browser?
In ProCall Monitor under Tools
In the ProCall main window under
Presence management with ProCall
In the ProCall main window at the top of the My presence area, you can manage your presence information.
| | |
| --- | --- |
| | Video on presence management with ProCall 7 Enterprise |
Presence management – show and see if someone is available/accessible
The presence status can be set manually or is created according to defined rules and based on services, e.g. calendar entries, telephony service. The presence status is automatically determined from this.
You can create so-called presence profiles for the display of the presence.
Set absence note
With the absence note, you can provide authorized users with detailed information about your presence status.
Examples
Private appointment probably until 10.30 am
Sales meeting
Afk: Away from keyboard
The basis for your presence display is always – depending on the system environment, authorizations and administrative configuration – e.g. entries in your calendar, current communication actions, presences you have activated, "do not disturb" settings.
Permissions
The setting options for displaying presence may be predefined or restricted by administration and cannot be changed by individual users.
Use ProCall on the move – the ProCall mobile app
When you are not at your office workstation, you can use many of ProCall's functions on the move. With the ProCall mobile app for Android and iOS.
Here is an overview of what the ProCall mobile app offers
ProCall integration with other applications
ProCall Enterprise and ProCall Meetings – for online meetings and video conferences
ProCall Meetings integration in ProCall client for Windows
ProCall Enterprise and Microsoft Teams
Microsoft Teams integration in ProCall Enterprise: How can I use it?
The availability of the functions depends, among other things, on the ProCall version, system environment and the permissions granted. Certain settings may be administratively predefined and cannot be changed by you.