How to share content with my contacts in a ProCall chat?
Version note
The Share Content feature is available from ProCall 7 Enterprise.
Share content: Send documents, photos, files to my contacts in a chat.
The Share Content feature in ProCall gives you the ability to send not only text messages in a chat, but also documents, photos, videos, or other files.
Start chat
To share content, start a chat (🗩) or open a chat room.
In the chat window: drag and drop, attach a file, or copy and paste
Files you want to send can simply be dragged and dropped into the chat window or selected for sending via the 📎 icon. Or you can use the familiar Windows shortcuts CTRL+C and CTRL+V (Copy&Paste) from Windows Explorer, an image editing software, or similar directly in the chat window to paste files via the clipboard.
Example screenshot: Share content via attach file

The file to be sent now appears in the chat window.
Example screenshot: Share content with ProCall – text message and attached file

Example screenshot: Share content – send video in chat

Example screenshot: Share content – send multiple files at once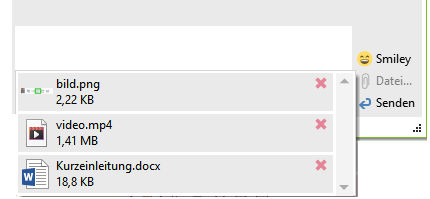 Check file before sending
If you have selected a file by mistake, you can still delete this file before sending it by clicking on the X to the right of the file.
Example screenshot: Delete file attachment before sending
Send file
Once you have selected the file(s) to send, you can send your text message and/or attached files via Send.

Check progress
In the chat window, you can see below how far the file transfer has progressed.

More functions with shared content
Note
What kind of files you can send and how big the files can be administratively restricted if necessary.
The availability of the function depends on the system environment, configuration, ProCall version, and granted permissions.