ProCall 8.0 Enterprise Release Notes
Highlights
Notes on the upgrade procedure for major release change
Before replacing an existing installation with ProCall 8 Enterprise, please refer to the Notes on the upgrade procedure.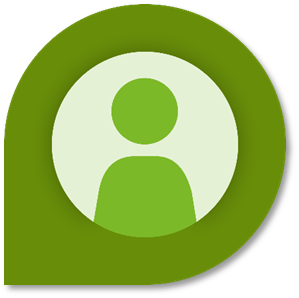 Do you still not have the latest version?
Welcome to ProCall 8 Enterprise
ProCall means business communication without compromise. It combines all important communication channels in one application and enables location and device-independent communication.
In the ProCall Enterprise expansion stage, the application has a wide range of extension options that integrate internal and external corporate communications into a company's business processes and thereby raise them to a new level. ProCall Enterprise is the perfect basis for modern and flexible workplace & working time models.
Connect ProCall for Windows easily via the internet ("VPN-less")
The last two years have seen an exponential growth in mobile working models. As a result, many organizations have begun to adopt more flexible endpoint policies and no longer rely solely on VPN connections to provide employees with access to services on the corporate network. With the next generation of ProCall Enterprise, it is now possible to use ProCall for Windows outside the corporate network via modern web technologies, without the need for a VPN connection.

The function can be activated very easily as a hybrid cloud service via UCConnect*. All connections from outside the company network are then automatically routed to the UCServer via UCConnect, and all STUN and TURN services are provided for real-time communication. For companies with restrictive policies regarding the use of cloud services, it is also possible to put the function into operation in the company's own data center.
* ProCall Mobility Services is a requirement
Learn more about setup and configuration →
Use softphone functions also via SIP system networking on telephone systems
Previously, the ProCall Enterprise softphone functions could only be used with a subscriber connection (SIP extension). With many telephone systems, the necessary subscriber licenses cause high additional costs, although the users do not even need the associated functions of the telephone system.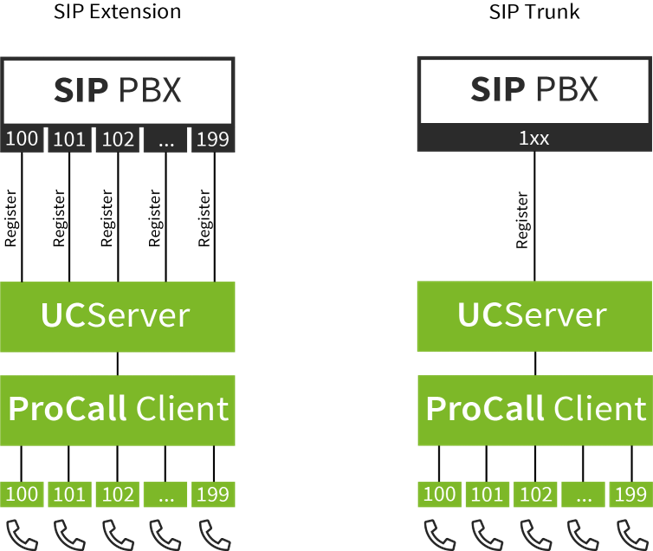 With ProCall 8 Enterprise, it is now also possible to use the softphone functions via SIP system networking (e.g. Native Trunk) on selected PBXs, thus eliminating the need to purchase expensive subscriber licenses. In order to be able to respond flexibly to customer requirements, the two connection variants can be mixed as required and operated in parallel. In the first step, the new connection variant is released on the Unify OpenScape 4000 and innovaphone.
Learn more about the technical background →
Conveniently customize call window via web editor
Until now, customization of ProCall call windows and contact details was only possible with programming knowledge and involved a corresponding amount of effort.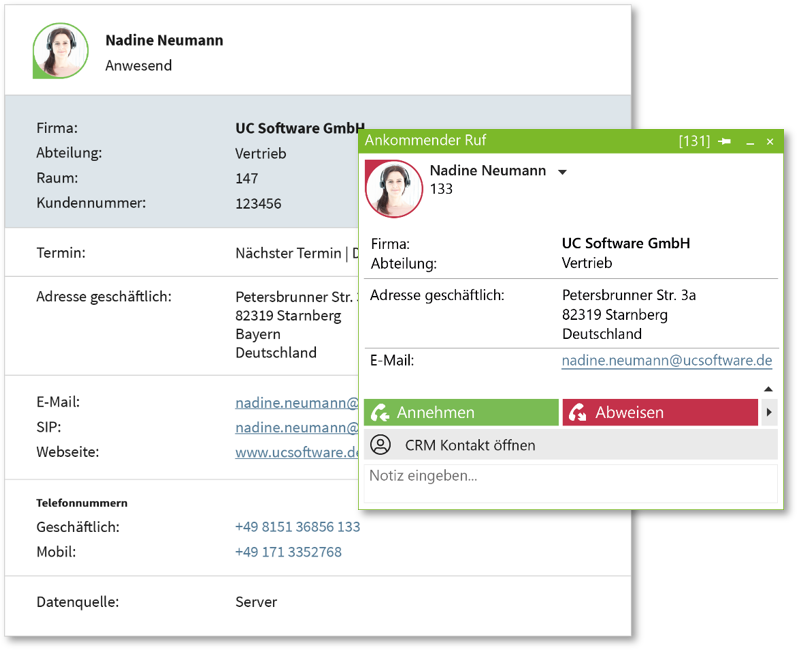 The contact details and the contact display in the call window are given a new appearance. ProCall 8 also offers the possibility to individually configure the contact details or contact display in the call window with little effort. Instead of having to adapt adjustments for the contact details and the contact display in the call window in the XSLT template, this can be done conveniently via a web page in a specially developed editor.
Learn more about the configuration possibilities →
More transparency thanks to online licensing
The days of separate license sets and long license histories are over. With ProCall 8 Enterprise, license management moves to the cloud, transparent and clear. In the UCConnect portal, trial licenses can be applied for, licenses for ProCall 8 Enterprise can be activated and associated contracts can be viewed. Thanks to the online connection between UCConnect and the UCServer, license changes can be made in real time without accessing the customer infrastructure.
Learn more about online licensing →
User interface improvements (preview)
Functionality and usability of a software are requirements for user satisfaction. Following this guiding principle, we have taken on for ProCall Enterprise to reduce the "visual noise" in the user interfaces to make the software easier to use. Furthermore, nowadays professional users of a software also expect a modern appearance.

We are continuing the process started with ProCall 7 Enterprise with version 8 and have dedicated ourselves to the "Chat" area. The main focus of the revision is to increase the clarity and faster access to essential information. The new ProCall Chat tab provides a quick overview of all relevant text chat conversations and allows faster navigation between different chat contacts. Access to shared content and media (media overview), as well as handling group chats has also been improved.
Learn more about the user interface improvements (preview) →
Preview
This function is available as a preview, i.e. there are still technical limitations that may prevent productive use. Please check in advance whether the function is already suitable for use in your environment.
Notes on interoperability
The following third-party products are no longer supported with ProCall 8 Enterprise.
Microsoft Windows Server 2012 (End of Support by Microsoft)
Microsoft Access as Server database
Language variants
German (Standard) – de-DE

English (United States) – en-US
estos product combinations
The following combinations with estos products are approved for use with ProCall 8 Enterprise.
MetaDirectory 5.x

ECSTA 6.x

ProCall Mobility Services

ixi-UMS Business/Enterprise 7.x
The following combinations with estos products are approved for use with ProCall 8 Enterprise (since version 8.0.2):
ProCall Analytics 3

LiveChat 2

ProCall 8 Enterprise UMReplikator (UMR)
Upgrade
To upgrade an existing ProCall Enterprise installation, be sure to follow the upgrade procedure instructions.
Be sure to perform a backup before making any changes to an existing installation.
Known problems and limitations
Further information
Supported third-party products →