ProCall Business 21H1 (Build 1.5073) Release Notes
Release
ProCall Business 21H2 (1.5073) was released on .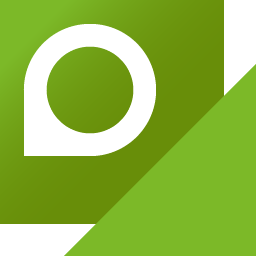 Highlights of Version 21H2
CTI and unified communications for small businesses
Easy mobile work via UCConnect
All contact information in one place
Microsoft Outlook (365) integration
Simple commissioning without major configuration effort
ProCall Mobile Versions
Since ProCall 7 Enterprise, there is no longer a distinction in the version designation for the mobile apps for iOS and Android. The range of functions depends on the underlying ProCall version and edition.
Welcome to ProCall Business 21H2
With ProCall Business, we bundle the most important features from classic CTI and selected unified communications functions to optimize communication and collaboration in companies with up to 50 users. The compact ProCall Business communications package is also characterized by particularly simple commissioning and flexible licensing, which can be expanded at any time on a per-user basis.

CTI and unified communications for small businesses
ProCall Business contains all the functions that are necessary for the everyday communication of small companies. Whether classic CTI convenience features such as intuitive and simple control of the phone via the PC, for example with hotkey dialing, or modern UC functions such as communication using the softphone, the immediately usable VideoChat and TexChat. Easier collaboration is ensured by simple content sharing, screen sharing, and excellent presence management to see colleagues' availability at a glance.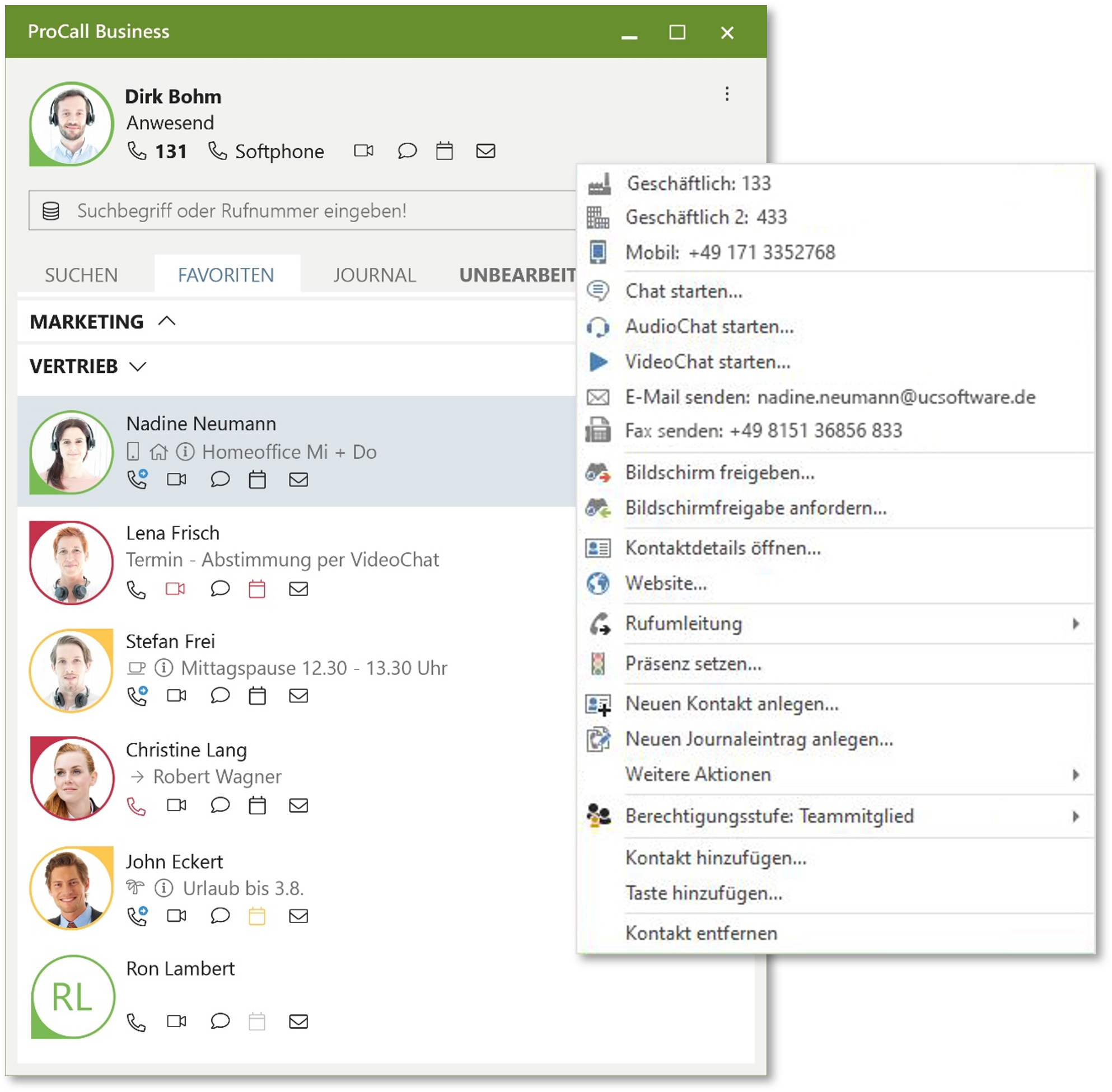 Easy mobile working via UCConnect
Mobility has become an integral part of the daily work of small businesses. With its native apps for iOS and Android, ProCall Business supports optimal communication and collaboration while on the move.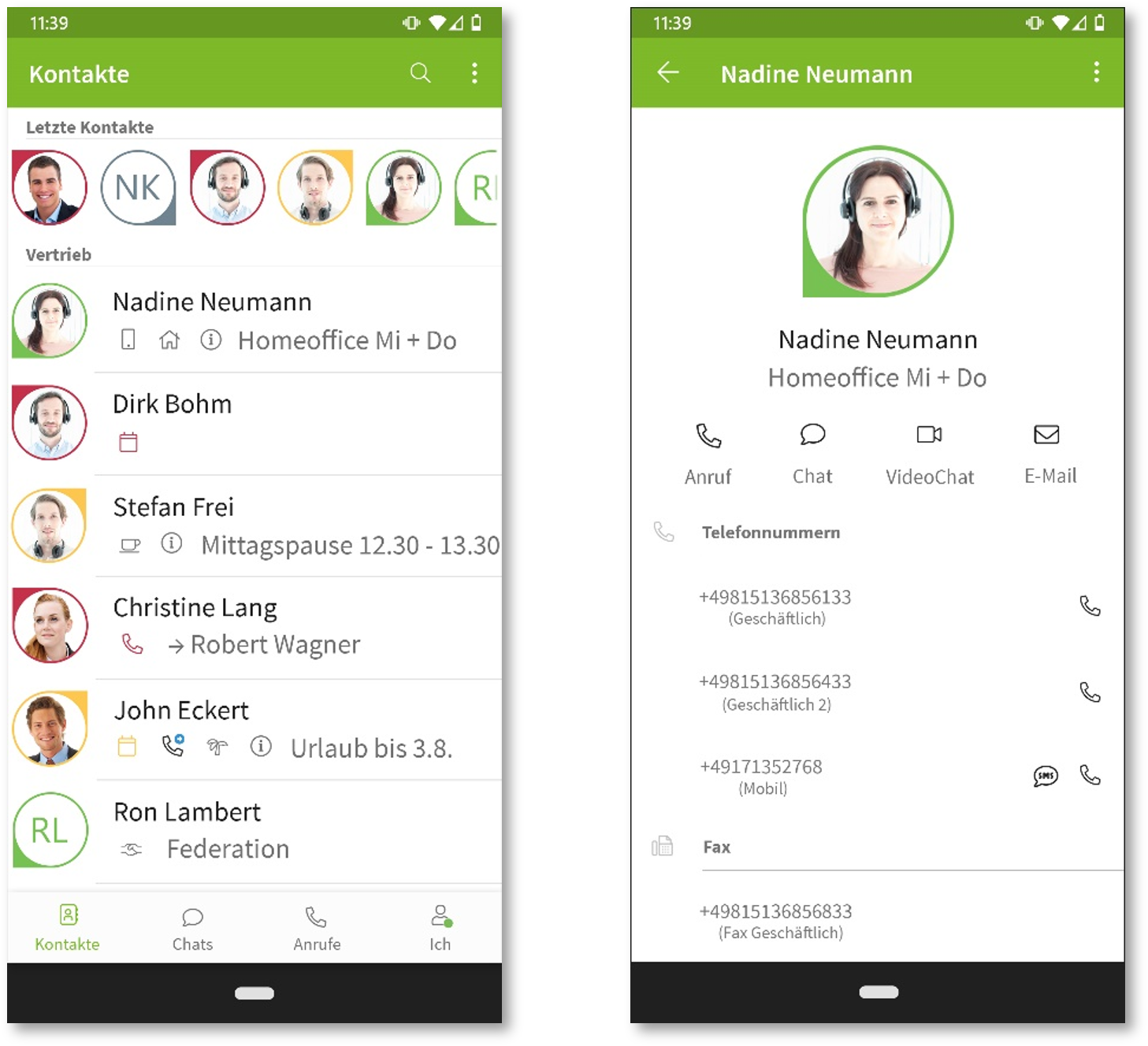 The connection is made via the hybrid cloud platform UCConnect, which enables simple commissioning without special IT know-how and reduces necessary adjustments to the customer infrastructure.
All contact information in one place
Contact data is usually spread across several systems and thus cannot be found quickly.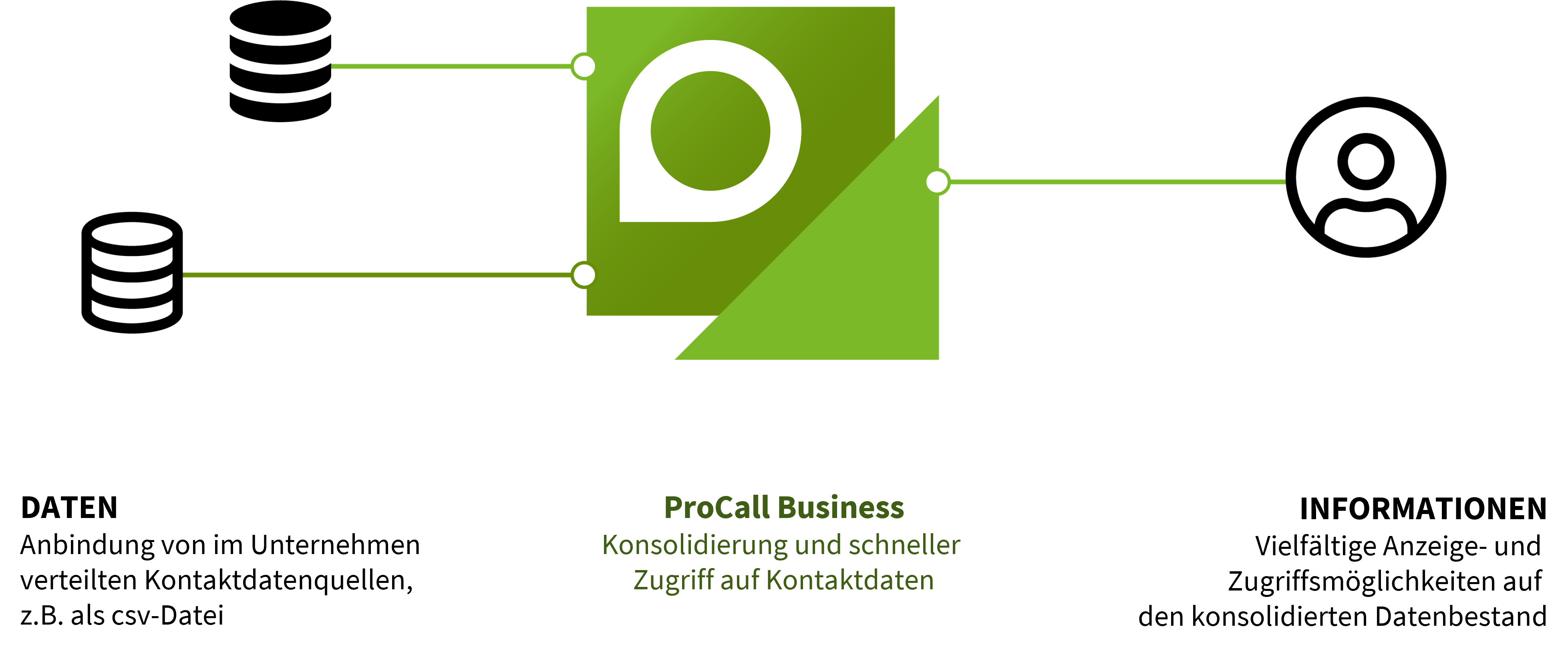 With the integrated contact data import of ProCall Business, data from different systems can be merged and is then easy to search for users via ProCall. Two data sources can be connected at the same time, supported are for example CSV files, Microsoft Outlook 365, or web-based phonebooks.
Learn more about contact data →
Microsoft Outlook (365) integration
ProCall Business already includes integration with Microsoft Outlook or Microsoft Outlook 365.
Most of the benefits such as interleaving with the calendar, presence information in e-mails, dialing directly from Microsoft Outlook, or journaling are available without any further configuration necessary.
Easy installation and startup
In ProCall Business, many preset configurations facilitate easy startup and do not need to be changed. In addition, all necessary software components have been combined in one installation package and do not have to be installed individually. Thus, despite the many options and functions of ProCall Business, installation can be completed in a comparatively short time.
---
Interoperability notes
Language versions
German (Standard) – de-DE
English (United Kingdom) – en-GB
English (United States) – en-US
estos product combinations
The following combinations with estos products are approved for use with ProCall Business:
Installation and commissioning
Before you perform setup, please note the Best Practice: Installation and setup of ProCall Business
Known problems and limitations
ProCall Business known problems and limitations →
Further information
ProCall Business product page →
ProCall Business documentation →