ProCall 7.0 Enterprise Release Notes
Release
ProCall Enterprise 7.0.0.3109 was released on 25.06.2020.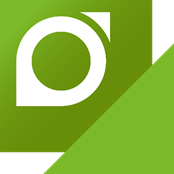 Highlights of Version 7
Notes on the upgrade process for major release changes
Before replacing an existing installation with ProCall 7 Enterprise, please read the notes on the upgrade process.
ProCall Mobile versions
As of ProCall 7 Enterprise, the mobile apps for iOS and Android no longer differentiate between versions. The range of functions depends on the underlying ProCall Enterprise version.
Welcome to ProCall 7 Enterprise
The exchange between people is the basis of all company processes. To communicate with each other is both a need and a necessity. Flexible workplace and working time models as well as the rapid digitalization of all areas of life present companies in Europe with ever greater technical, legal and organizational challenges. With its proven UC functions and business process integration capabilities, ProCall Enterprise has been reliably simplifying communication and business processes for almost 20 years. Especially in a time of complex digital transformation, communication must be simple.
User interface improvements
WINDOWS ANDROID IOS
Functionality and simple handling, these are the requirements for using software successfully and with satisfaction. Following this guiding principle, we have decided to reduce the "visual noise" in the user interfaces of ProCall 7 Enterprise to make the software easier to operate. In addition, professional software users nowadays also expect a modern appearance.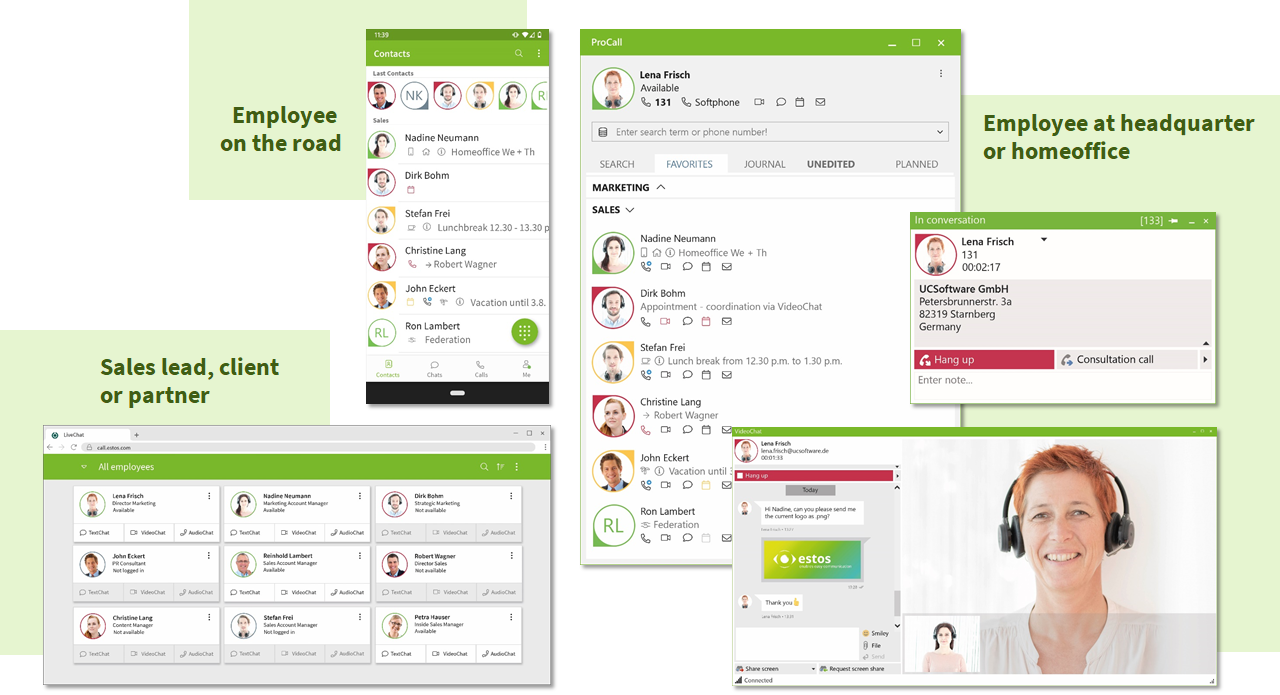 We started the improvement process with an area that has occupied us for more than 15 years and for which we received an award in 2018 – presence management. We have paid particular attention to the presentation of information, the use of colors and a more modern appearance.
When modernizing the presence area of ProCall Enterprise, the focus is on the round display of the profile pictures, which has also led to a change in the way the presence is displayed. The new round estos presence rotates clockwise from "Available" to "Not logged in". To differentiate between the presence states, especially for people with disabilities, the alignment of the "crown" on the profile picture explains the color of the presence ring and therefore the presence state.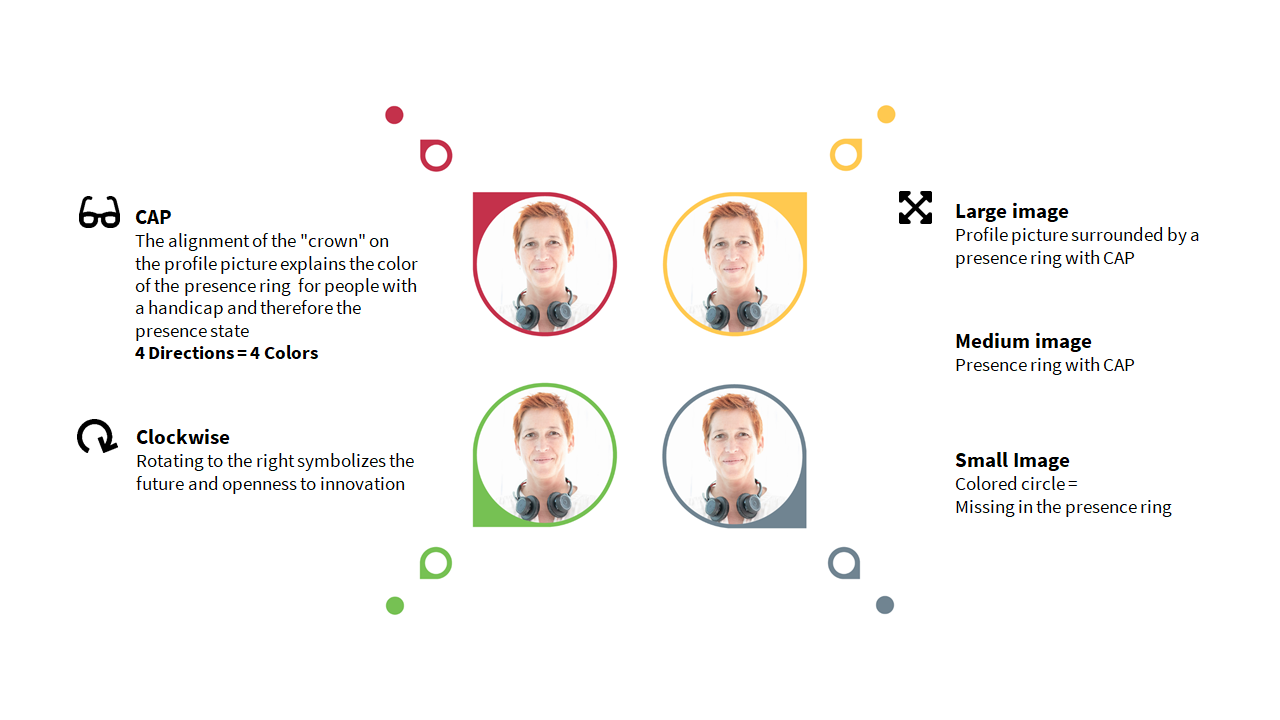 In order to improve the visual differentiation of information and actions, the contact cards were divided into clearly defined areas for presence, information and action. Care was taken to achieve the hierarchy of the information through font size, capital letters and grey tones rather than through color.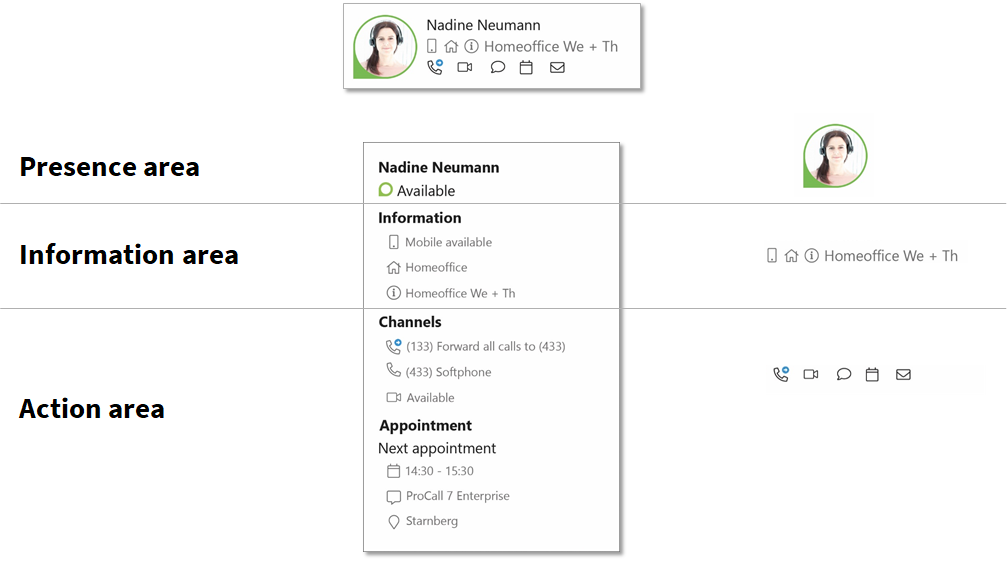 ProCall for Android was modernized and adapted to the currently valid Google Material Design Guidelines for Android.
Easy sharing of content
WINDOWS ANDROID IOS
In many areas of day-to-day collaboration, it is necessary to share content with colleagues, to pass on information and work together on it. With ProCall 7 Enterprise's content sharing feature, this is now easier. Using chat in the client for Windows, iOS and Android, files, photos and videos can be quickly shared with other ProCall users.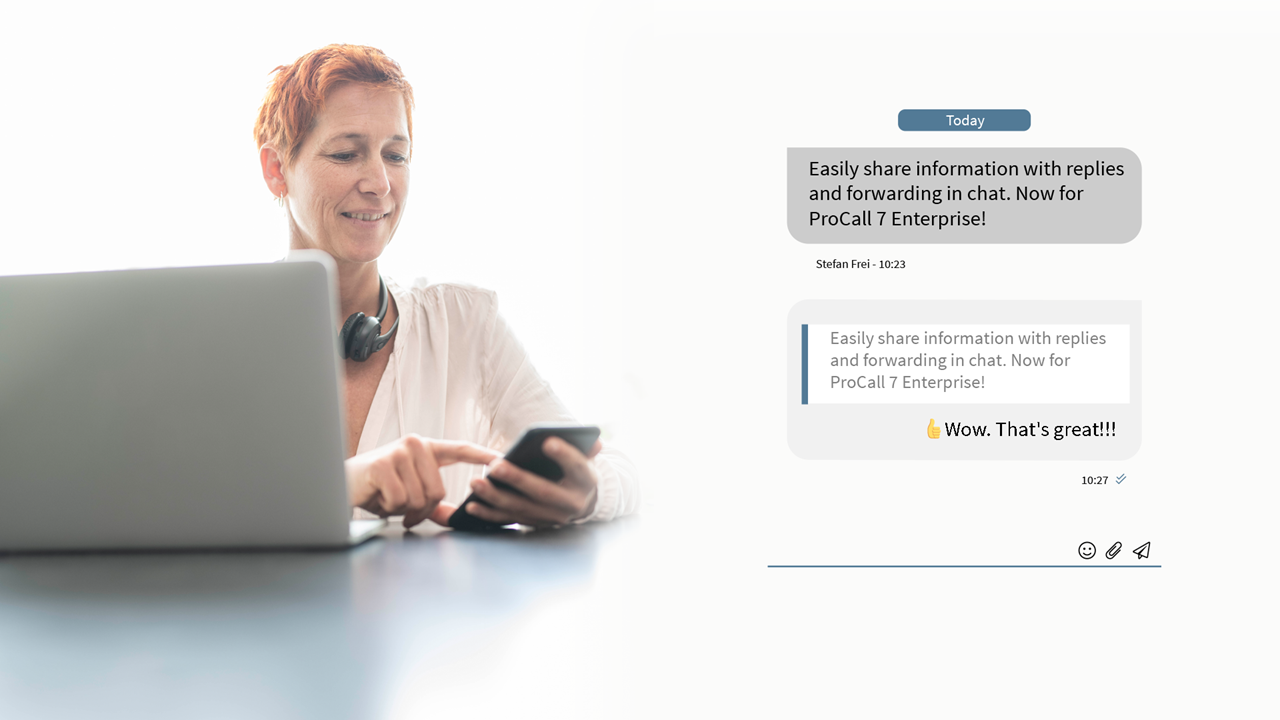 Further information on operation →
During development, attention was paid to making the functionality as simple, reliable and secure as possible. By using the existing server interface and many default settings, content can be shared directly after installation without further configuration. In order to be able to retrieve the contents over a longer period of time and from different clients, the data is stored centrally on the UCServer. The configuration options include the maximum file size (max. 25 MB), storage location and maximum used mass storage (quota). Secure operation is enabled by transmission encryption (TLS) of the server connection (optional), unreadable data storage and a blacklist for file types. Regular cleansing of the content is also possible.
Further information on configuration →
Simplified adaptation for business process integration
WINDOWS
The greatest value of a UC application is created when it is integrated as smoothly as possible into the business processes and procedures of a company. Tedious routine tasks, e.g. checking customer data during a telephone call, are simplified for the user and so errors are minimized. With ProCall 7 Enterprise, the integration of business applications is now easier than with any previous ProCall Enterprise version.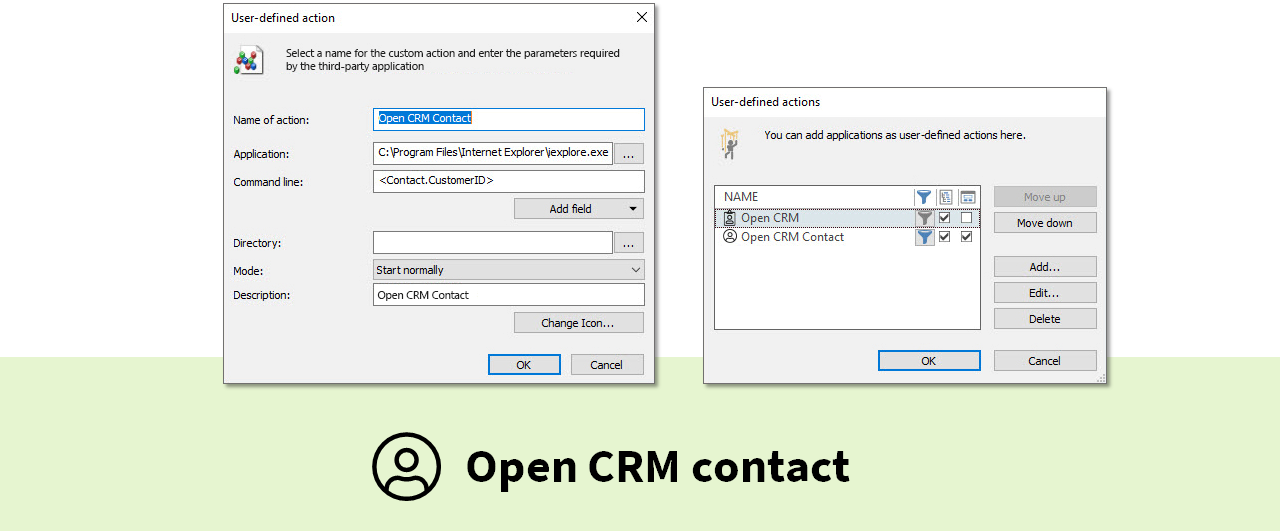 Business process integration can now be achieved with a simple configuration of the ProCall client, i.e. in many cases, the previously necessary development work is no longer required. The main menu, the context menu and the communication windows in the ProCall client can be extended by actions that start external applications via parameterizable calls. Dynamic (e.g. current call) and static (e.g. contact data from MetaDirectory) data can be accessed. The configuration can be carried out individually at each workstation or administratively on the UCServer.
Administrative configuration
WINDOWS ANDROID IOS
Many companies would like to support their users during the initial setup of applications or make specifications for individual user groups. For this purpose, it is helpful if mechanisms for administrative configuration support the distribution of settings to users.
In ProCall 7 Enterprise, the existing administrative configuration options have been expanded to include favorite contacts, monitor content, speed dial buttons and user-defined actions. It is now possible to conveniently configure favorite contacts, monitor content and speed dial buttons via the UCServer Administrator and distribute the configuration to users via UCServer groups. The previously time-consuming configuration via customization and distribution of XML files is no longer necessary.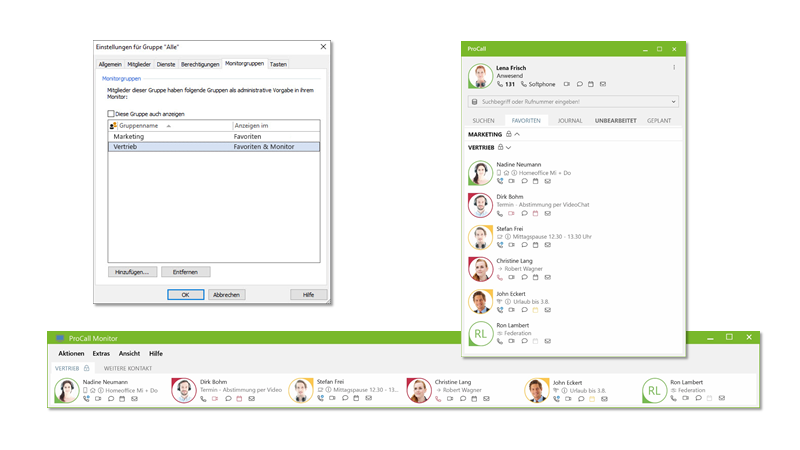 For the first time, user-defined actions can be rolled out to the clients with ProCall 7 Enterprise via UCServer profiles and ADM templates, provided that an XML configuration file is centrally provided.
Large softphone environments
WINDOWS ANDROID IOS
In projects with many extensions that are to be equipped with the ProCall Enterprise softphone, the technical limits of scaling have been quickly reached. Changes to the UCServer and media server have significantly raised these limits and improved reliability.
With ProCall 7 Enterprise, the media server can optionally be outsourced to a separate runtime environment to enable scaling of the UCServer. In addition, it is now possible to operate the UCServer with several media servers and thus achieve automatic load distribution of incoming and outgoing softphone calls using the round-robin method. Should one of the connected media servers fail, this is automatically detected and a failover to the remaining media servers is performed for new calls.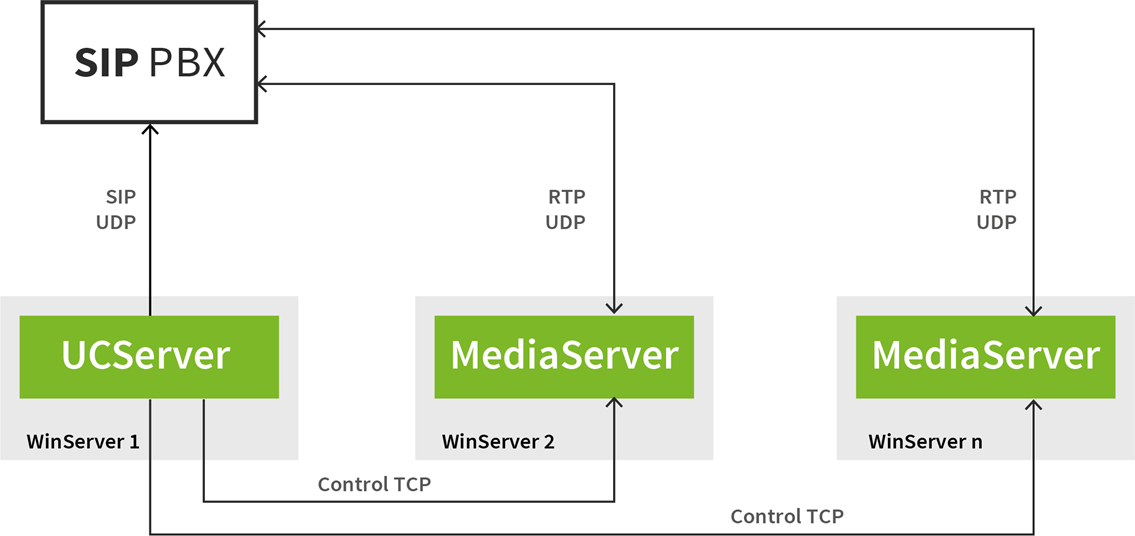 A Best Practice Manual for the necessary configuration steps is available on request.
Chat improvements
Higher-level search for chats and messages

Search within a conversation

Reply to messages (citation function)
Forward chat messages to a colleague

Easier creation of group chats
Softphone improvements
Changing the input/output device during a call
New softphone connections

HFO Crown Centrex
reventix virtual telephone system
autphone aut-voice
Improvements to ProCall Mobile
Hold softphone conversations
Use of presence profiles even on the move
Notifications can be disabled

Incoming calls
Missed calls
Chats

Support of Dark Mode in iOS
Note, if the push policy was not confirmed on the UCServer
Notes on interoperability
The following third-party products are no longer supported with ProCall 7 Enterprise.
Microsoft Windows Server 2008 R2 and Microsoft Windows 7 (since January 2020 end of support by Microsoft)
Herold telephone directories
Language versions
German (Standard)

–

de-DE

English (United Kingdom) – en-GB
English (United States) – en-US

Spanish (Standard)

–

es-ES

French (Canada)

–

fr-CA

French (Standard)

–

fr-FR

Italian (Standard)

–

it-IT

Dutch (Standard)

–

nl-NL

Portuguese (Brazilian)

–

pt-BR

Russian – ru-RU
estos product combination
The following combinations with estos products are approved for use with ProCall 7 Enterprise.
ProCall Analytics 3.x

MetaDirectory 4.x and 5.x

ECSTA 5.x and 6.x

UCConnect hybrid cloud building blocks

LiveChat 2005

ixi-UMS Business/Enterprise 6.7x and 7.x
Upgrade
To upgrade an existing ProCall Enterprise installation, please read the notes on the upgrade process.
Always make a backup before making any changes to an existing installation.
Known problems and limitations
Further Information
Supported third-party products →