MetaDirectory 5.0.20 Enterprise Release Notes
MetaDirectory Enterprise 5.0.20 was released on as a maintenance release.
You do not have the latest version of MetaDirectory Enterprise yet?
Download MetaDirectory 5 Enterprise →
Please make a backup of your environment before each update.
MetaDirectory 5 Enterprise 5.0.20.11733
!!! NEW:

estos MetaDirectory Teams App !!!
MetaDirectory 5 Enterprise Web-Server as Microsoft Teams App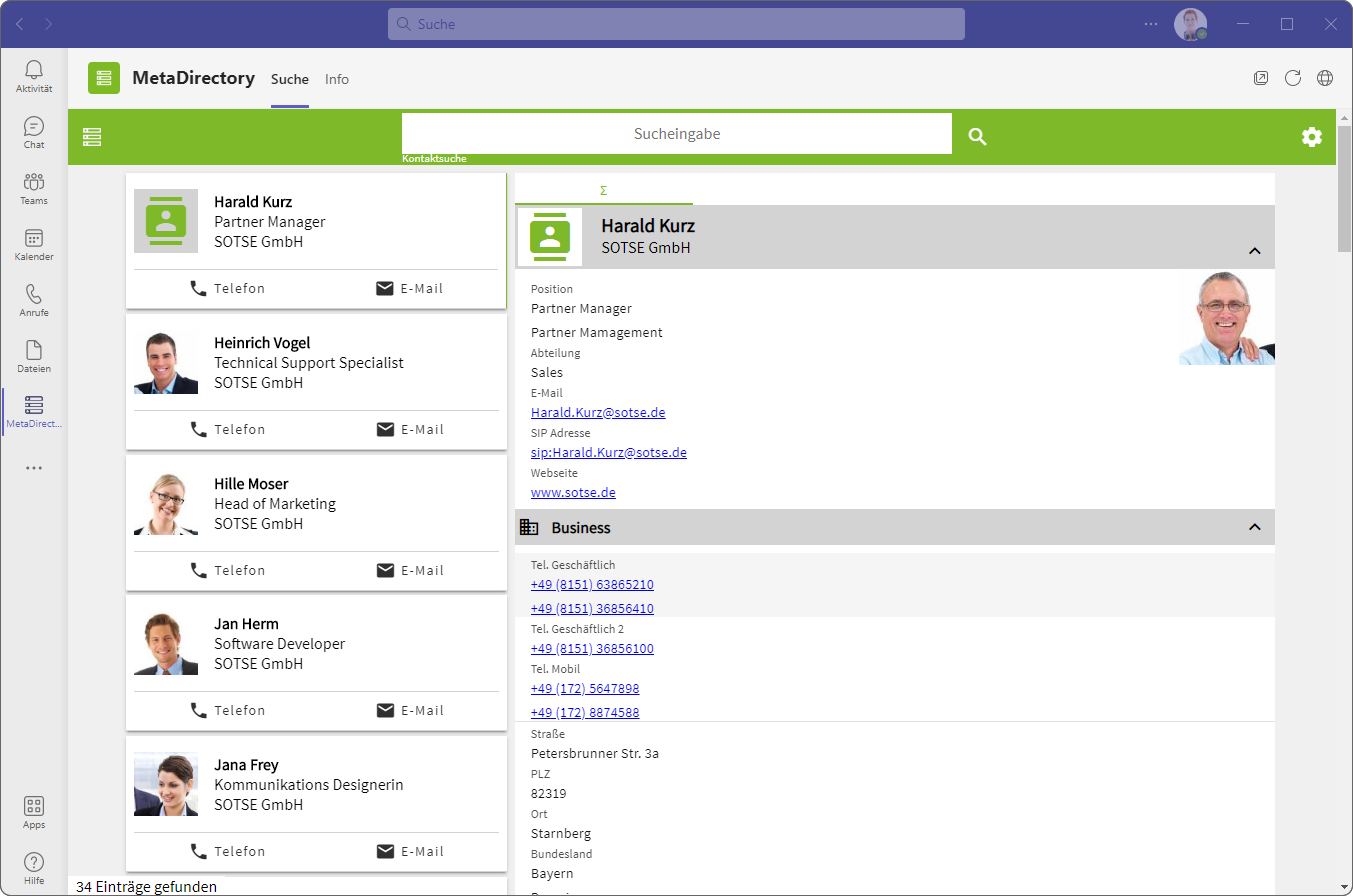 Contact search

Phone number search

Select from search result

Various further URL calls such as "mailto:"
Optional: Business process integration (BPI)
Further information about the software setup can be found under:
https://support.estos.de/en/metadirectory-enterprise/estos-metadirectory-teams-app-einrichten-und-in-der-organisation-freigeben
Discontinuations
The Microsoft Outlook Exchange Replicator (32-bit) will no longer be available with the next setup 5.0.21
The EXACTONLINE and Aranes replicators have been removed and are no longer available.
Additional new functions/Improvements
Users can now be read from Azure (MS Graph).
For database fields, a note on use in ProCall Enterprise has been added.
The Google contacts API is deprecated and no longer supported. Migration to People API is required.
During an update installation it was possible to change the installation path. This is now prevented (installation path "grayed out").
Bug fixes
Fixed an issue where MS graph replication failed for empty or emptied mailbox contacts.

Fixed an issue where the password was not requested correctly when reinstalling and updating.

An error has been fixed where the user rights in the VLV did not "take hold".
Fixed an issue where in the web service HTTP header the settings were reset after restarting the MetaDirectory service.
Fixed a bug where some configuration files were missing in the config. directory.
No mobile phone numbers were delivered from Swisscom Directories because fields were filled incorrectly. The problem has been fixed.
A manually specified path for exporting the configuration is now taken over.
Known problems and limitations
Known issues and limitations →
Further Information
MetaDirectory 5 Enterprise specifications →