Analysis: Using the TAPI Test Tool ePhone.exe to check TAPI lines of the TSP
The ePhone.exe tool allows the verification of the installed TAPI Service Provider (in the following called TSP) on the functionality of the lines and displays all currently possible features of the TSP. With the help of ephone.exe you can record sessions and provide them for analysis if necessary.
Please run the test on the computer where the TSP of the PBX or phone is installed!
In the event of using a TSP of type estos ECSTA, for example, this is the computer on which estos ECSTA is installed.
On operating systems with 64-bit architecture please use the tool EPhoneX64.exe,
On operating systems with 32-bit architecture the tool EPhone.exe.
Both versions of this application do not differ from each other functionally, which is why no further distinction will be made between EPhone.exe and EPhoneX64.exe in the further course of this article.
The tool can also be used to check the functionality of the other estos ProCall Enterprise TAPI drivers (estos ProCall TAPI Driver edial.tsp, estos UCServer remote TAPI driver eclient3.tsp, estos UCServer multiline TAPI driver eremote3.tsp).
Procedure
1. You can find the EPhone.exe for Download at estos.
In the event of using estos ECSTA or estos ProCall Enterprise, the test tool can also be found in the respective program directories (e.g. C:\Program Files\estos\ECSTA or C:\Program Files\estos\UCServer\Supportfiles):
Example screenshot: EPhone.exe and EPhonaX64.exe at estos ECSTA in the Program Files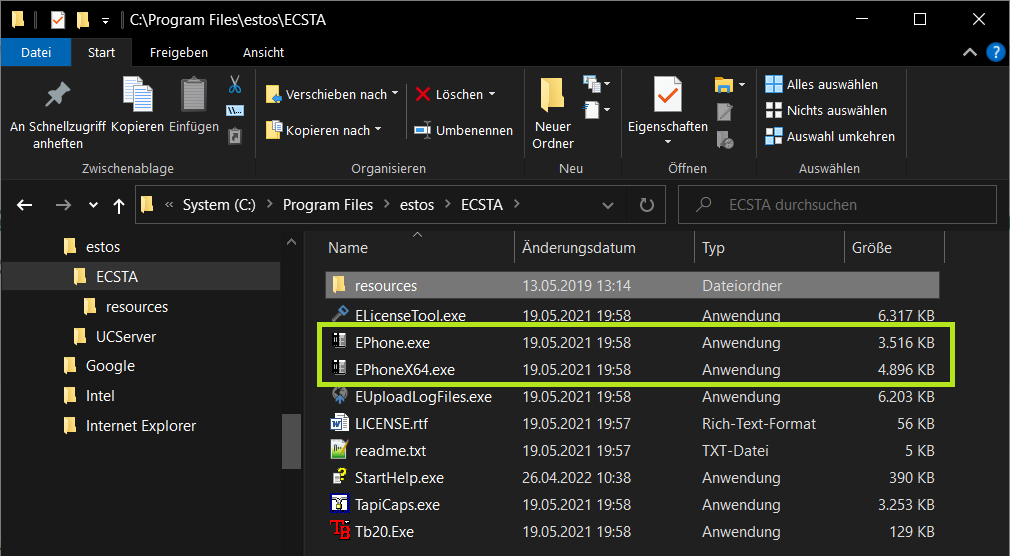 2. Please unzip the zip file and open the EPhone.exe depending on your operating system architecture.
3. Select the TAPI line that you want to test at Device and press the button Start Session. The TAPI line is opened and the button now shows End Session.
Example screenshot: ephone.exe Start Session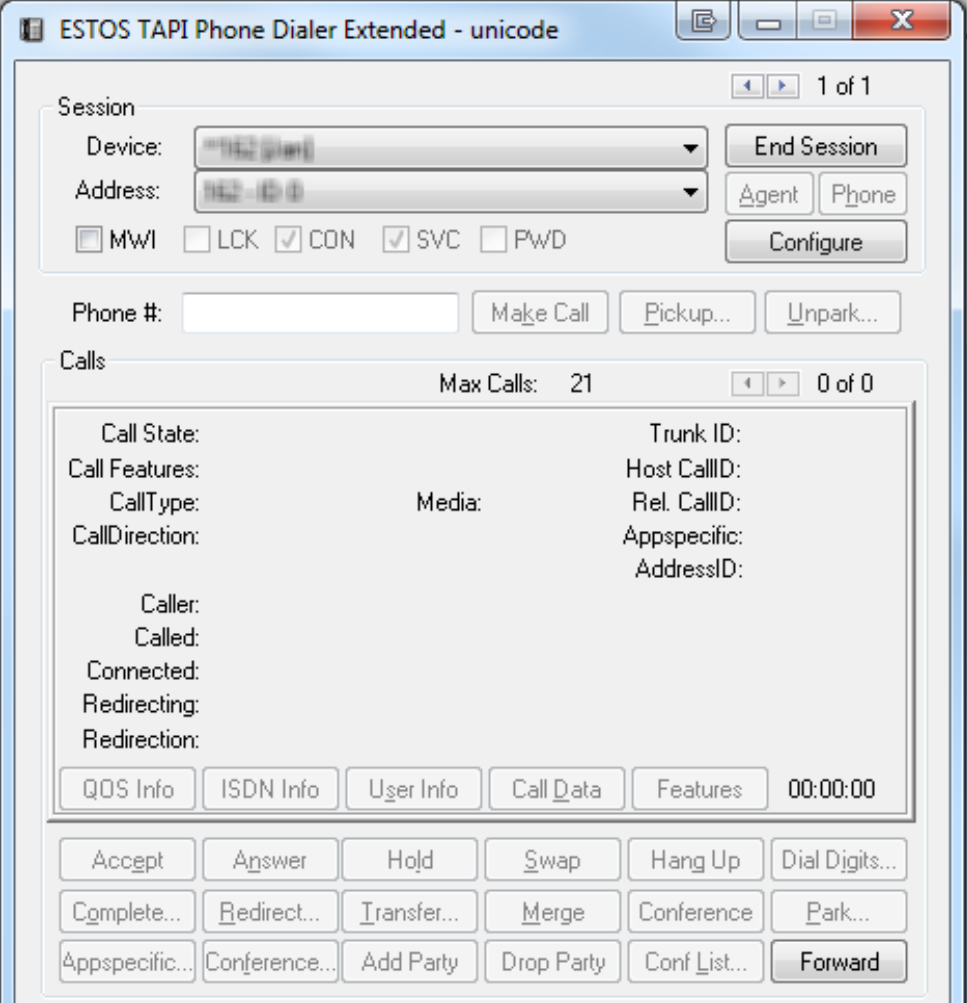 4. Now perform the tests of the functions you want to analyze. This screenshot shows an outgoing call.
Example screenshot: ephone.exe outgoing call
Limit the causes of errors: TSP
If one of the above steps is not possible, for example:
You do not see any TAPI lines
You cannot open the TAPI line, i.e. the button Start Session cannot be clicked
You get an error message in the footer of ePhone.exe like "Operation Unavailable", "Invalid Line State
The ePhone.exe does not react to "Make Call" at all
then the error is usually found at the TSP. Please contact the manufacturer of the TSP directly.