Using the estos ticket system
The estos ticket system
Video tutorial – create ticket for estos product support

Brief explanation:
How do I create a ticket for estos product support?

Language: German
Duration: approx. 3 minutes

Search helpful articles in the estos Knowledgebase at support.estos.de
Get access to the ticket system
Login procedure
Topics and choices in ticket creation
Manage your tickets
Create additional contact persons
The estos ticket system is used to report malfunctions, errors, problems, observations, inquiries or other concerns where you need assistance.
Our terms and conditions apply under
Alternatively, please send us any escalations you may have. We will clarify these with you in an online meeting and thereby coordinate the next steps.
Enabling access to the estos ticket system
Get access to the estos ticket system
Login to the estos ticket system
Access to the estos ticket system must be enabled by estos for you in advance. With the activation, you will receive the access data that you need for the login.
Please follow the instructions:
Open a ticket with an issue
In estos product support, several options are available for opening a ticket:
General question (about the product)
Request for support or remote assistance
Appointment, call back or an escalation
Product defect/malfunction
Suggested improvements
Example screenshot: Your options for creating a ticket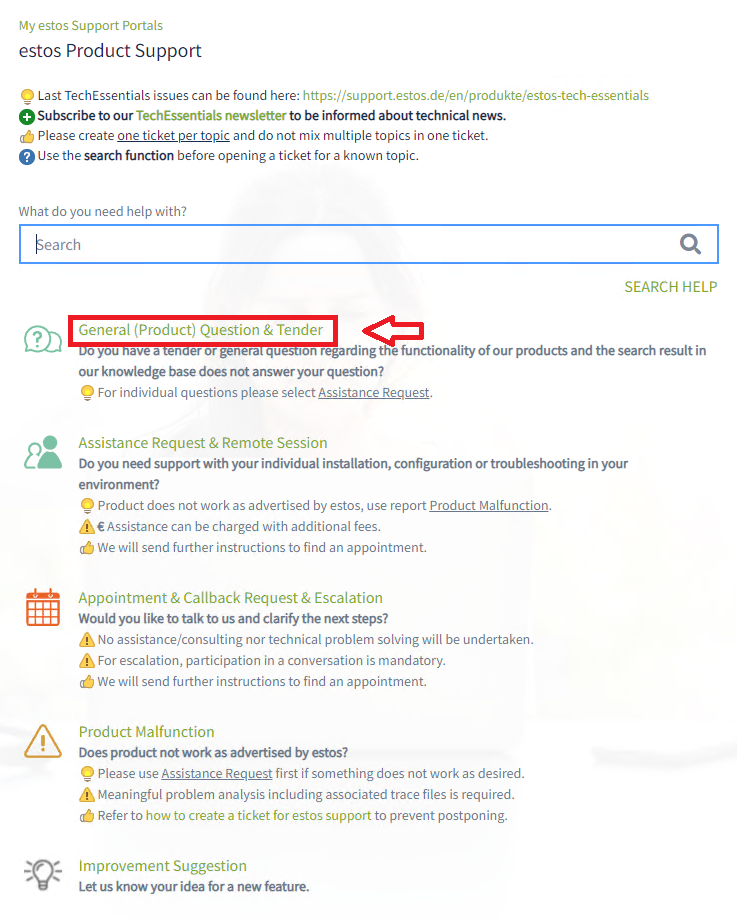 To be able to create a ticket depending on the subject area, please click on the green highlighted heading.
Please note the additional information which we have added to each selection option. Here you will find information on how to create a complete report. In addition, we have created templates for you to select from, which you can use as a checklist.
Information on affected end-user companies (as authorized reseller and estos partner)
If a request/concern is created on behalf of an end user company, or if an end user company is affected by a malfunction/problem, it is possible to specify this in the "Affected End User's Company" input field.

If the input field "Affected End User's Company" is not filled in, we assume that the creator of the ticket is an employee of the affected end user company. In case of an authorized reseller or estos partner, no customer would be affected.
Tickets overview
Access to your requests can be found at the top: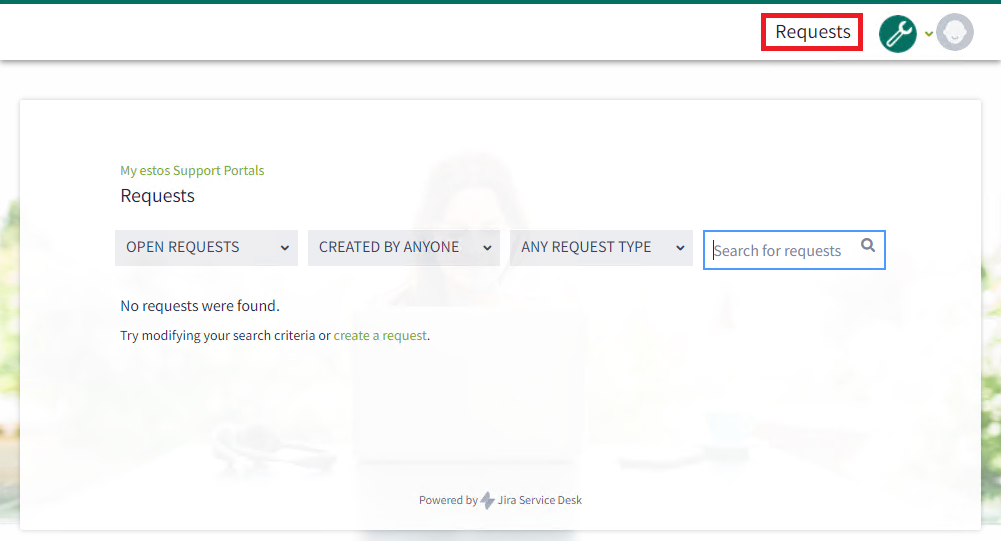 From here, it is possible to access all tickets that you or your organization's colleagues have created in estos product support.
When creating a ticket, you can select who from your organization is allowed to see it: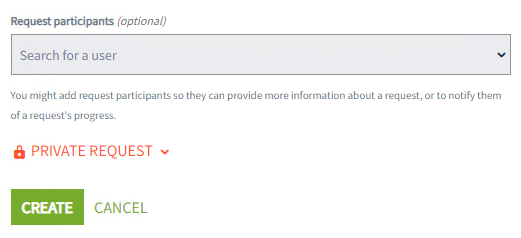 However, other people ("e-mail addresses") from your organization can also be added to the distribution list. In this way, in addition to you, the people listed will receive information about changes made to the ticket, such as status changes or new comments.
Change language
The user interface language can be set in the user profile: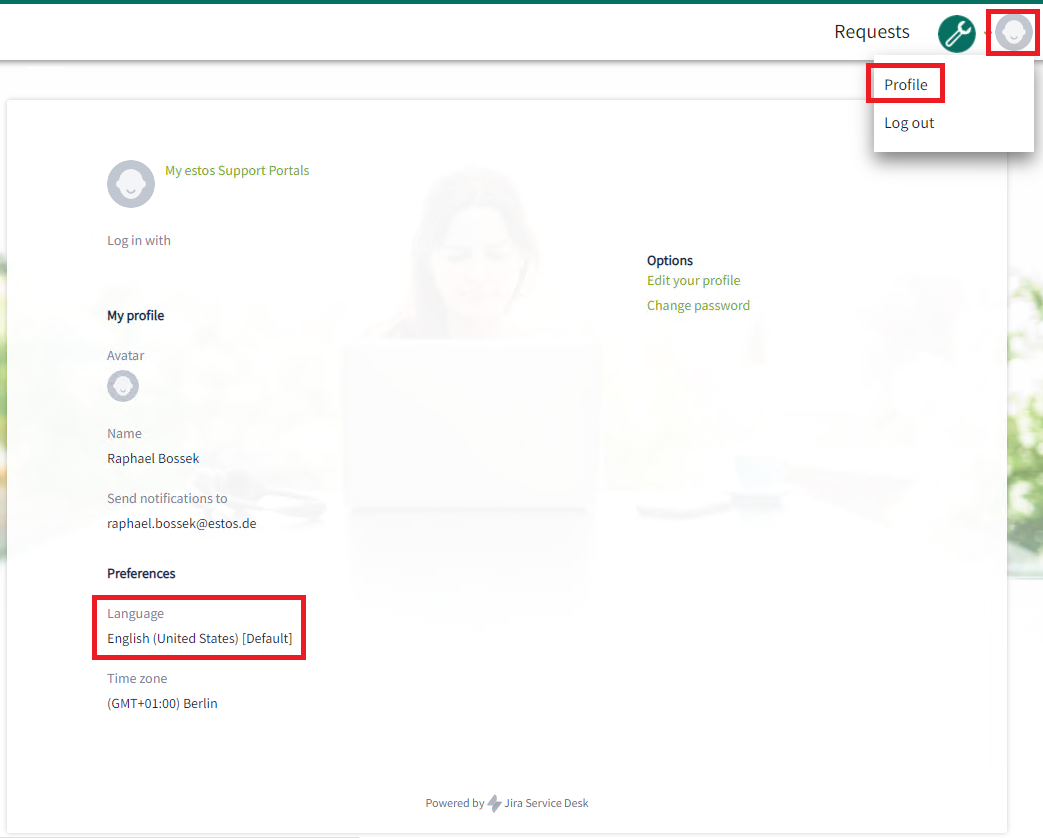 What status do requests have in estos product support?
Requests in estos Product Support go through several stages until they are resolved or closed.
NEW:
A newly created request that has not been processed by estos.
FEEDBACK REQUEST
We have further questions, have a proposed solution waiting for your confirmation/feedback. If you do not reply/respond within 2 weeks, the status will automatically change to FEEDBACK PENDING.
PEER REVIEW
Your request requires further processing. A response/feedback cannot be expected for the time being. This may be the case, for example, if further analyses have to be carried out on our part, or if changes to the product are required.
FEEDBACK PENDING
We have been waiting for a response for at least two (2) weeks. If there is no response within the next two (2) weeks, the status will automatically change to DONE, as we assume that the issue has been resolved.
IMPLEMENTING
The status signals the processing/conversion (FEEDBACK REQUEST) by the creator, and can be set manually. The status IMPLEMENTING changes automatically to the status FEEDBACK PENDING only after four (4) weeks without further reaction/information.
OPEN
If the issue continues to require our attention and new information/details is available.
DONE
The issue is considered to be resolved/answered.
CLOSED
There will be no further processing of this ticket.
Processing times for queries
With an SLA service level agreement
Only within the framework of our SLA agreement (https://legal.estos.de/content/latest/support-und-softwarepflege/leistungsbeschreibungen-support-und-softwarepflege/leistungsbeschreibung-service-level-agreement) are response times for requested regulated. If you have an SLA and would like to use it for any issues with our software products, you can indicate this when reporting a product failure. We will take this into account accordingly during processing.

This does not apply in the event of any misconfiguration.
Without agreement
If there is no corresponding agreement, we process:
Priority on the elimination of faults (cloud services),
Correction of problems that may affect a large number of customers,
Reports from known end-user companies, i.e.


The input field "Affected End User's Company" has been filled in by the authorized reseller or estos partner and a registration of the end user company is available.
The end user company has registered with u.s
Requests regarding new features, configuration or setup will be handled after that. In the meantime, you can refer to our product online help (https://help.estos.de) or articles in this support portal.
Telephone contact possibility in connection with estos product support
For further information on how to contact us by phone to resolve faults, please refer to the following article: Technical support from estos
Our service hours can be found here:: Service times.