ProCall Analytics 3.0 Release Notes
Product release
ProCall Analytics 3.0.1.3656 was released as a product release on 12/01/2021.
---
Highlights of Version 3
Evaluation of softphone calls
Change to server licenses
ProCall 7 Enterprise support
Welcome to ProCall Analytics 3
ProCall Analytics is an add-on module for ProCall Enterprise, which displays your communication data in clearly arranged dashboards. With the new version 3 it is now also possible to evaluate softphone calls made via ProCall. By switching the licensing from user-based to server-based, commissioning and expansion has been simplified even further. ProCall Analytics 3 is the first version to support ProCall 7 Enterprise and is not compatible with older ProCall Enterprise versions.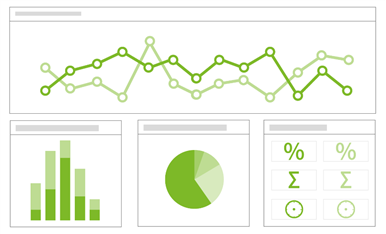 Discontinuation/removed functions/notes
End-of-Life/End of Support note for the following third-party products that are no longer supported in the current version:
Microsoft Windows Server 2008 R2 and Microsoft Windows 7 (since January 2020)
Important Information for Version 3.0.1.3656
Update for the public beta version ProCall Analytics 3.0.0.xxxx currently in the field
A compatibility problem (PCA-779) has been fixed which occurs with the newest UCServers (7.1). The UCServer writes in the journal table in all char database fields if no value is present in empty strings and not NULL as before. Thus some of the statistics are no longer correct. For example, incoming calls are recognized as forwarded and the data in the customer and project dashboard is incorrect.
This version can now handle both and is thus suitable for all UCServer versions 7.x in the field.
All customers using the Analytics Public Beta Version 3.0.0.xxxx so far should please install this version as soon as possible after the release on our website.
---
Language versions
German
English
French
Italian
Others on request
---
Notes on the upgrade process
Notes on the upgrade process for major release changes
Before replacing an existing installation with ProCall Analytics 3, please note that ProCall Analytics 3 can only be used in conjunction with ProCall 7 Enterprise. Older ProCall versions are not supported.
estos product combinations
The following combinations with estos products are approved for use with ProCall Analytics 3:
Further information