ECSTA 6.0.5 Release Notes
ECSTA 6.0.5.795 was released on as a maintenance release.
You do not have the latest version of ECSTA yet?
Note
Please make a backup of your environment before each update.
ECSTA 6.0.5.795
ECSTA GENERAL
Improvements
For a number of ECSTAs, it is necessary to specify which internal phone numbers exist in the PBX via the Config UI as part of the location configuration. In the ECSTA's Config UI, "Location" is selected and then the range of internal phone numbers is specified via "First extension" and "Last extension" (see screenshot 1). This information about internal phone numbers has so far been used by the ECSTAs exclusively to derive from the phone number information of a call whether it is an internal or an external call.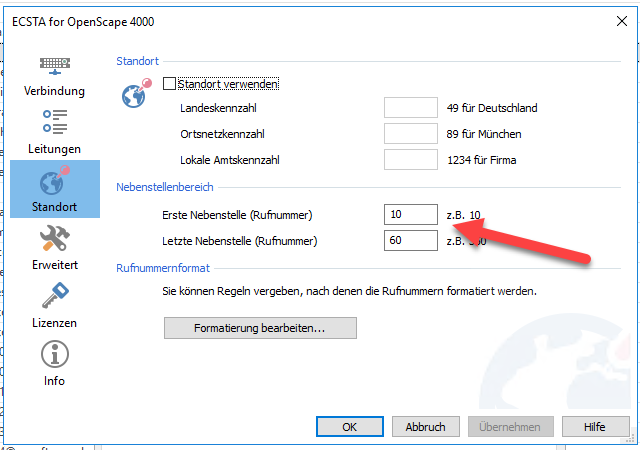 The implementation of the ECSTAs has now been extended to the effect that during the automatic creation of lines (this is done by activating the feature "Create lines automatically on demand" in the line group in the UCServer, (see screenshot 2)) it is checked whether the phone number of the line to be created automatically is within the range of internal phone numbers. Only then is the line created and announced to the TAPI system.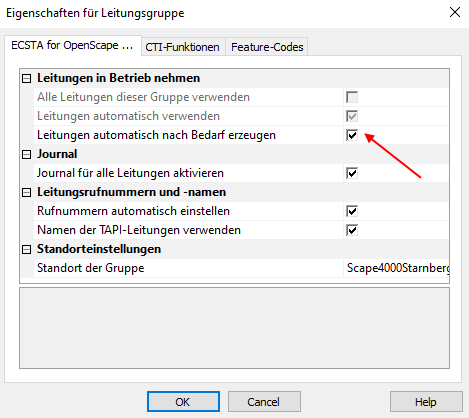 This feature is now available for the following ECSTAs:
Avaya ACM
Mitel MX-ONE
Communi5 (Teles C5)
Alcatel OXE
Alcatel OXO
OpenScape Business
OpenScape 4000
OpenScape Voice
Mitel 100
Octopus
ECSTA GENERAL
Improvement
If no IP address is entered, a maximum of one message is entered in the event (depending on ECSTA) at startup.
ECSTA FOR SIP PHONES
Bug fix
In the event of successive communication errors (these are logged as transaction errors) between the telephone and the uaCSTAServer (these can also be caused by the network infrastructure), communication between the uaCSTAServer and the terminal device is terminated. Communication between the uaCSTAServer and the end device is only re-established after the end device has been re-registered with the uaCSTAServer, which may take several minutes depending on the timeout interval. This gives the user the impression that the communication between the end device and the uaCSTAServer has been terminated and that only the restart of the uaCSTAServer will lead to a re-establishment of communication. However, this behavior is correct.

Fixed a problem where a certain number of consecutive communication failures between the components uaCSTAServer and ECSTA for SIPPhones resulted in disconnection (could only be fixed by restarting both components). The connection between ECSTA for SIPPhones and uaCSTAServer is no longer disconnected in these cases.
Language versions
Deutsch/German (Standard) – de-DE
English (United States) – en-US
estos product combinations
The following combinations with estos products are approved for use with ECSTA 6.
ProCall Enterprise 7.x
ProCall Enterprise 6.x
Upgrade
To upgrade an existing ECSTA installation, it is essential that you follow the notes on the upgrade process.
Always make a backup before making any changes to an existing installation
Known problems and limitations
ECSTA 6 known problems and limitations →
Further information
Supported telecommunication systems →