Setting up a multi-user workstation for ProCall Enterprise


For workstation models with the use of a workstation by several users at different times (alternating workstations) or for users who are not assigned a fixed workstation (hot desking), ProCall Enterprise offers configuration options for the assignment of telephone numbers/lines.
The corresponding use cases and the setup procedure are described here.
Change workstation: several users share one workstation/computer
Procedure during setup
In this use case, you have to assign the lines to a computer instead of the user.
You can make this assignment in the UCServer administration under Configuration -> User administration -> Computer.
Under General, you can enter the number for the 1st and 2nd phone.
Every user who logs on to this PC and is activated in the user administration now gets this phone number.
Notes on the journal
The journal is updated for the owner of the line. In this case, the user logged on to this computer is the line-owner, i.e. all journal information is stored for them. If you want to make this information available to a second user, you can do so via the group journal/team journal.
Notes on call number mapping
Again and again, there are messages that phone numbers that are mapped to the terminal server host in terminal server environments do not appear in the ProCall clients of the user sessions.
This is often due to the fact that Windows Remote Desktop connections are initiated from workstations/thin clients to the RDS host, but ProCall Enterprise recognizes the client from which the RDP session is initiated as a "logged-in device".

Solution:
Assign the phone number to the device (computer) from which the RDP session is initiated.
A simple way to check this is:
Within the UC-Server administration go to "User" > *select corresponding ProCall User* > "Properties" > tab "Status" > now there is the field "Last login on device" > the device listed here is the device to which the phone number has to be mapped so that it is available in the ProCall client afterwards.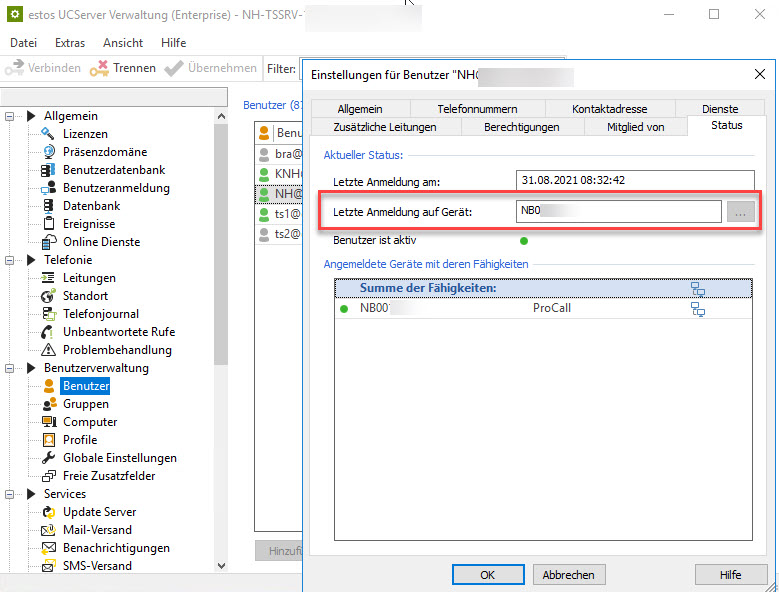 Hot desking: Users without a permanently assigned workstation
Here the users do not have a permanently assigned workstation, but have their own line and log on and off the phones.
Procedure during setup
Here the user is assigned the line as usual.
If the line remains with the TAPI driver when logging off at the telephone, nothing else must be set.
However, if the lines are mapped dynamically (e.g. with ECSTA for Mitel MiVoice Office 400), the TAPI line is also no longer available after logging off on the telephone and is only reassigned when the user logs on to a telephone.
It may be that the UCServer considers this as a new line and must therefore be reactivated and the location may have to be set.
For this case please consider the following articles: