Use lines automatically/dynamically in UCServer
The lines do not have to be activated and deactivated manually.
Lines are automatically/dynamically put into operation if there is an activated user for this line.t.
Use lines automatically/dynamically in UCServer
Requirements
Sufficient licenses in UCServer and, if necessary, ECSTA.
Location is set up correctly.
Telephone numbers are correctly entered for users.
Procedure
Check the Use lines automatically checkbox in the Details for line groups in the UCServer administration under To put lines into operation.
Example Screenshot UCServer Administration - Details for line group
Check the settings
User
Make sure that the phone numbers are entered correctly for the users and match the location settings.
If these settings are correct, you will see a symbol with a number behind the line at the phone number: This indicates that a line has been found for this phone number.
Example Screenshot Users and Telephone Numbers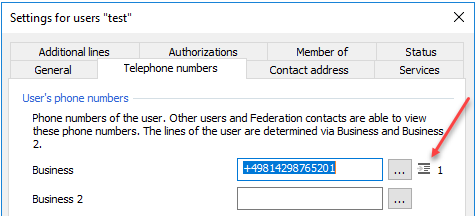 Lines
The checkbox at the front disappears because the lines are activated automatically and therefore cannot be activated manually.
The last column for the lines

, indicates that the line has been activated.
Example Screenshot Lines