New authentication mechanisms for EWS to Microsoft Office 365
State of knowledge
October 2020. ProCall 7 Enterprise
Changes on the part of Microsoft
Microsoft cancels support for Basic Authentication for Exchange Web Services (EWS) on October 13, 2020, for Microsoft Office 365.
This means that when the ProCall Client for Windows is connected to Microsoft Office 365 via EWS connection, the login does not work as usual.
There is currently no known evidence from Microsoft that Exchange Server On-Premises installations are affected.
Procedure for ProCall Enterprise
ProCall 7 Enterprise from SR1
As of ProCall 7 Enterprise SR1 (planned product release: ), the client for Windows can log on to EWS connection via OAuth2 to Microsoft Office 365.
Please note that measures are only necessary if, for example, there are problems with the login of the ProCall Client for Windows via EWS to Microsoft Office 365.
In the ProCall Workstation Settings (accessible via the Start menu), the EWS connection can be activated and configured in the Groupware Settings window.
In the configuration dialog, remove a possibly existing non-functioning EWS connection and then click on the Add button. Enter the e-mail address of your Office 365 account and select Office 365 below.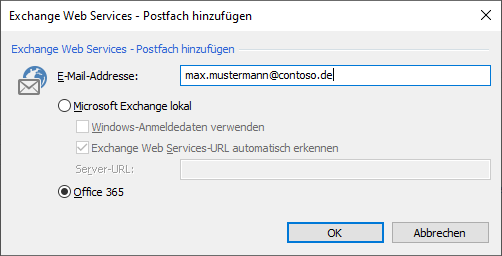 Login and authentication for Microsoft Office 365 with authorization query

Log in to your Office 365 account now and after reading the information, accept the connection and the requested permissions.
Privacy policy
No data is transferred to estos by granting app permissions. Data is transferred exclusively between the locally installed ProCall Client and the Microsoft cloud services.
Example screenshot: Requested permissions for the App ProCall when logging into the Microsoft Office 365 account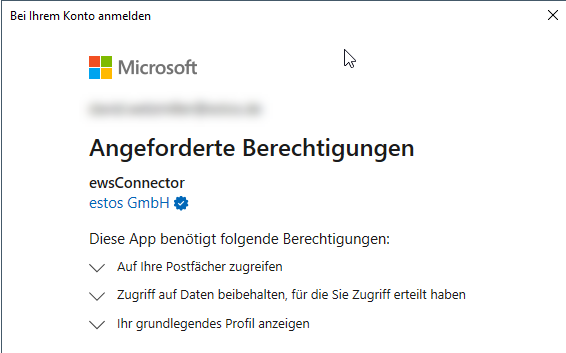 After confirming and exiting the ProCall workplace settings, please restart the ProCall Client for Windows.
In the client, under Settings → Data Sources you can check whether the connection to the Exchange Web Services was without errors.
Workaround for other ProCall versions <7.1
If the installation is affected by this problem, but no ProCall 7 Enterprise SR1 is available, you can also work with an Azure App Password. This also applies to problems when logging in via EWS for Multi Factor Authentication (MFA).
Create a new app and password for your Microsoft 365 account: https://account.activedirectory.windowsazure.com/AppPasswords.aspx
If you are asked for username/password when setting up the EWS connection of the ProCall Client for Windows, enter your usual login name and the app password you just created a password.
For further details or questions we refer to the official documentation of Microsoft.
Related links
More articles on this subject