SIP user registration on the PBX/vPBX
State of knowledge
July 2022
Relevance: ProCall 6 Enterprise (EOL), ProCall 7 Enterprise, ProCall 8 Enterprise
SIP Registrar settings
The estos UCServer service includes the SIP gateway, which is responsible for registering the SIP softphone user lines on the connected PBX.
UCServer Administration – Telephony – Lines – Properties for line group – Registrar
The settings used for the REGISTER process can be found in the properties of the line group under Registrar:
Example screenshot: estos UCServer Administration – Telephony – Lines – Registrar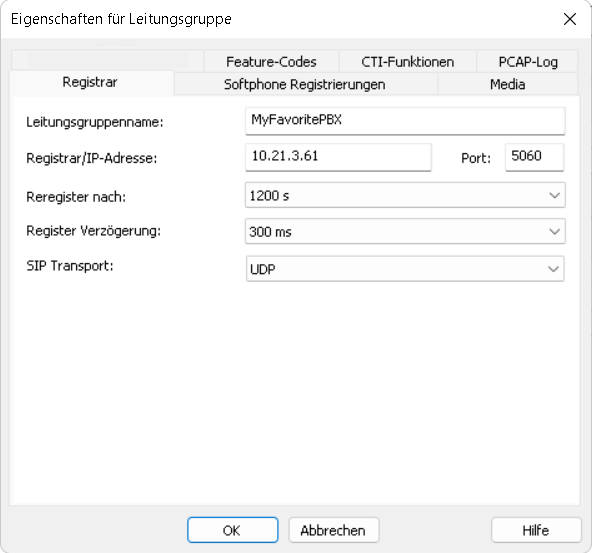 Reregister according to
Specification of the desired expiration period in the register request according to RFC 3261.
The value should be greater than or equal to the corresponding default of the registrar in order to comply with the PBX Administration specifications.
A value that is too small can lead to login/registration errors under certain circumstances.
A shorter value in the Expires field sent by the registrar is accepted by the UCServer for use.
Register delay
The estos UCServer can insert a delay between SIP REGISTER requests.
In larger installations with many SIP lines, this can prevent an overload situation at the SIP registrar, especially when starting the estos UCServer service.
Überlastsituation: Negative SIP Response bei zu vielen Requests
If the estos SIP gateway tries to register a large number of lines with the registrar within a very short time, the PBX may respond to these too many SIP register requests with a negative SIP response, e.g. SIP/2.0 503 Service Unavailable or SIP/2.0 500 Server Internal Error.
The maximum number of SIP register requests that can be processed by the registrar per time unit depends on the individual telephone system.
The upper limit may be perhaps 25 register requests per second for smaller telephone systems, but only perhaps 250 register requests per second for large telephone systems.
A good practical value for the register delay is 300 ms.
If necessary, however, this value must also be adjusted depending on the expiration period for a more even distribution of many required register requests.
System time
For the registration processes, the estos UCServer SIP gateway uses internal timers that depend on the system time of the host computer.
Therefore, make sure that the system time is always accurate.
Overload situation: Negative SIP response with too many requests
If unexpected and unwanted offsets of the system time occur, many registrations may lose the remaining period of their validity and the SIP gateway therefore initiates re-registration processes as quickly as possible. This in turn leads to an overload situation at the registrar of the PBX, which may result in registration errors (e.g. SIP/2.0 503 Service Unavailable).
Further information
Connection instructions for telephone systems
Overview SIP telephone systems for ProCall softphone – compatibility list