ProCall presence is not displayed in Microsoft Outlook
Observation
ProCall presences are not displayed correctly in Microsoft Outlook.
Procedure/Checklist
Check if the ProCall contact searched and displayed matches the contact in Microsoft Outlook

.


Example: E-mail address = e-mail address (in UCServer) and SIP address = SIP address. SIP and e-mail addresses of the ProCall user can be found in the UCServer in the respective user settings.
ProCall is registered in the system as an IM provider
For more information, see the article Set up standard presence and telephony (CTI) applications in Microsoft Office products on Windows
Changing the cache mode in Microsoft Exchange has positive effects?
There are no other installed products that can influence the presence display of Microsoft Outlook (for example Microsoft Lync, Skype for Business, Skype, etc.)?
In Microsoft Outlook settings the option "Show online status next to the name" is enabled (where to find this setting depends on the version of Microsoft Outlook used and can be found in Microsoft Outlook Help)
The behavior is different if ProCall and Microsoft Outlook are started in a different order?
Registry Keys
To work around this problem, please update to a current ProCall Enterprise version and create the following registry key:
HKEY_CURRENT_USER\Software\ESTOS\UCServer4\CtiMain\FIVE_259_RUNTIME_DISABLE
Type: REG_DWORD
Value: 1
This disables an extension of the IM interface required for presence.
Provide data for error analysis
If working through the checklist does not solve the problem, please create debug logs of a ProCall Clients process and make a screenshot as described below.
The process is as follows:
Start the ProCall Client.
Check whether the contact has a presence in the ProCall favorites.
Create a new e-mail to this contact in Microsoft Outlook and click on "Check Names" in the top bar.
Create a screenshot where the contact is visible in Favorites, the contact details are displayed and the contact's business card is also displayed in Microsoft Outlook.
Example Screenshots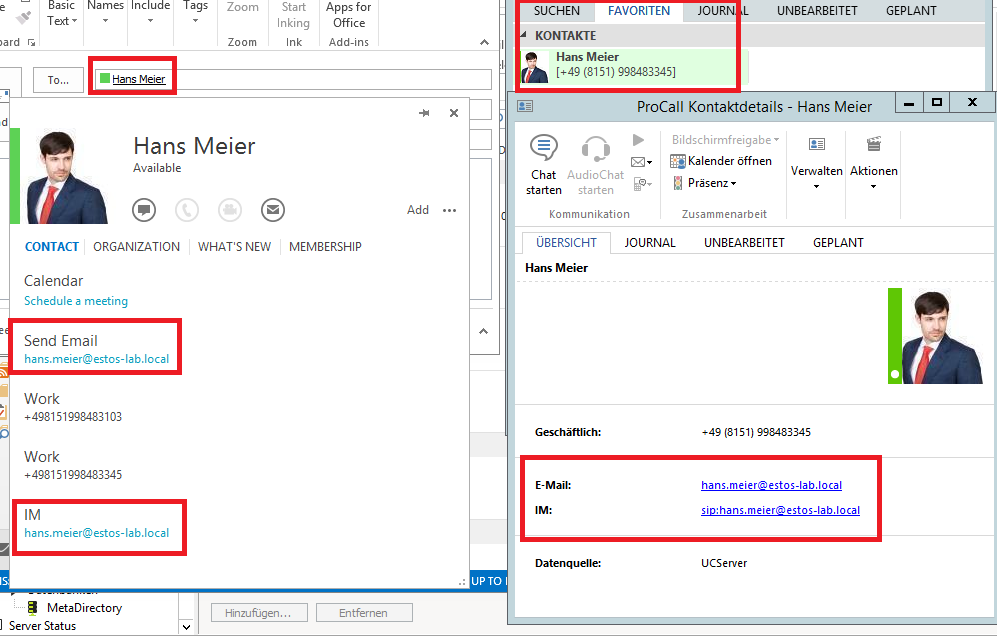 Further information
Set up standard presence and telephony (CTI) applications in Microsoft Office products on Windows