Integration of Microsoft interfaces via EWS (Exchange Web Services) set administratively
Using ProCall with Microsoft Outlook – Groupware integration via EWS (Exchange Web Services)
You have the possibility to use the predefined ADM/ADMX templates for the groupware integration of ProCall Enterprise.
Example screenshot: ProCall – Integration – Activation of Exchange Web Services

The following can then be seen within the ProCall workstation settings:
Example screenshot: ProCall workstation settings – Groupware settings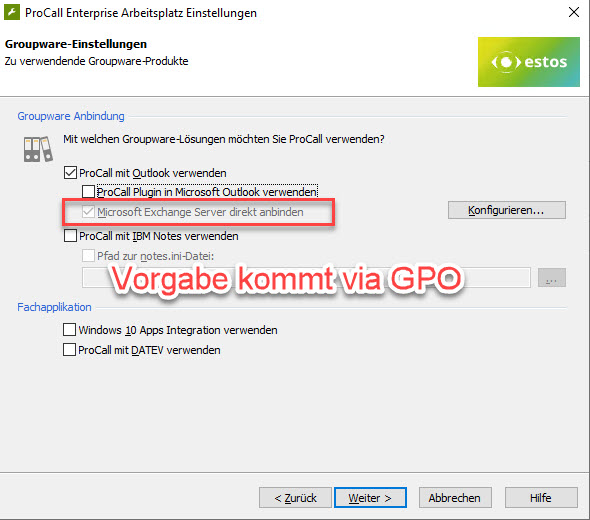 You now have the possibility to make further configuration steps via the "Configure" button at "Use ProCall with Outlook" via "Connect Microsoft Exchange Server directly.
If you do not want to do that at this point, you can also continue the setup via the "Next" button.
Now Microsoft Outlook is queried for configured mailboxes when starting the ProCall client for the first time and is used for the ProCall groupware integration.
The requirement is that these mailboxes are configured accordingly within Microsoft Outlook.
Otherwise, the ProCall client starts accordingly without integration.
Further information
ProCall Enterprise and integration with groupware systems
with Video tutorial on the functionality and setup of ProCall Enterprise and the connection to Microsoft Exchange Server via the EWS (Exchange Web Services) interfaces and/or MAPI (Messaging Application Programming Interface) and the corresponding configuration in the ProCall workstation settings.