No search results in ProCall Mobile/ProCall for macOS from MetaDirectory
If the search in the ProCall Mobile app or in the ProCall Client for macOS does not return any search results from the MetaDirectory, this indicates an incorrect setting or lack of access of the clients to the network in which the UCServer or the MetaDirectory is located.
Procedure
UCServer Administration
Make sure that the contact data source is correctly specified in the UCServer administration under Databases – MetaDirectory.
Example screenshot: estos UCServer Administration – MetaDirectory – Databases – Contact data source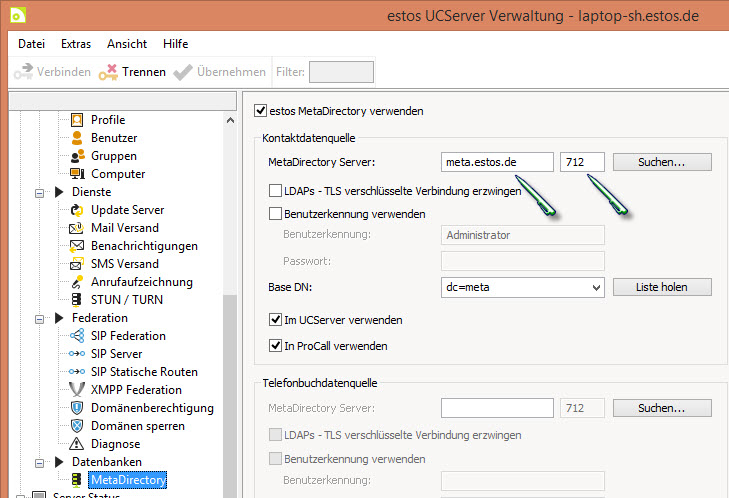 If user management is activated in the MetaDirectory, the UCServer must authenticate itself to the MetaDirectory. For this to happen, the "Use user ID" checkbox must be set in the UCServer and a user and its password must be specified.
The query at the MetaDirectory is performed by the UCServer "by proxy" with this user. The user must therefore be activated and also configured in the MetaDirectory. The ProCall Mobile/ProCall Mac users will be able to query the contact data that the specified user is allowed to see.
See also: UCServer connection of MetaDirectory Enterprise with user management via shared user objects