Entering a DNS Service resource record (SRV)
This article describes how to create an SRV record.
This entry is necessary for ProCall clients to recognize which IP address or Host A entry the UCServer has.
A Service resource record can be entered in a DNS (Domain Name System) to make IP-based services in a domain easier to find.
Additional information can be provided for a service (e.g. server on which the service runs, priority, etc.).
Enter DNS Service record
_ctiserver Service Location (SRV) [1][0][7222] ucserver.domain.de
_ctiserver
Name of the service under which it is found in the DNS. For estos ProCall this must be _ctiserver.
Service Location (SRV)
What type of entry this line contains.
[1]
Service priority. This allows prioritization of the different, similar entries. For ProCall, the higher the number, the higher the priority.
[0]
Weighting the entry. This is used to achieve a preselection of the DNS entry when executing the client setup. The following values have special meaning here:
0 - DNS entry exists, but the static configuration is preselected in the client setup.
1 - 99 DNS entry is preselected in the client setup.
100 - DNS entry is preselected, the static configuration is not available.
[7222]
Here the port number is specified under which the service is provided. For ProCall, the default setting of client port 7222 generally applies.
ucserver.domain.de
The computer that provides the service. Here ProCall requires the computer on which the UCServer runs.
Example screenshot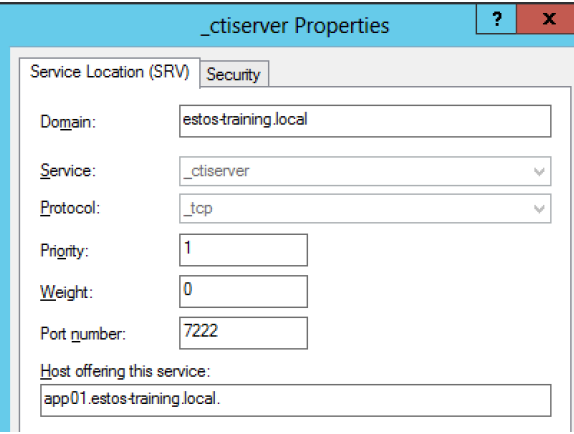 In the client setup, you can now choose to search for such an entry and use it.
Administrative default
This setting can also be specified administratively, preferably via Group Policy (either for the user or for the computer).