Send e-mail opens Windows Mail and not Outlook
Observation
When I want to send an e-mail to a user via Favorites/Monitor, Windows Mail opens instead of Microsoft Outlook as desired.
Possible reason
In the Microsoft Windows operating system, the default mail program is not Microsoft Outlook.
Check possible causes
You can switch to the "Expert View >>" in the ProCall Client for Windows main window via the three dots

"About ProCall".
In the Expert view, under System information, you can see in the list which program is defined as the default e-mail client in the system.
Example screenshot: ProCall client for Windows – Expert view and defined default e-mail client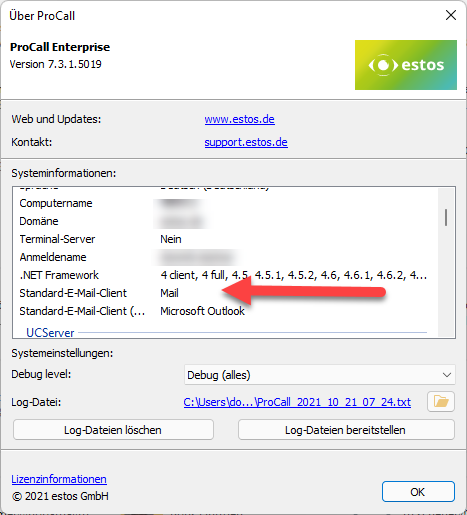 Solution/Procedure
In Microsoft Windows 10
Go to the Windows Default apps setting and change the e-mail app to Outlook.
In Microsoft Windows 11
Go to the Windows setting Standard apps. Here you select Outlook or Mail and specify Outlook for "MAILTO".
Example screenshot: Microsoft Windows 11 – Settings: Apps > Default apps > Mail – MAILTO