MetaDirectory and DATEV replication – phone number resolution does not always work
Observation
In case of an incoming call, the contact is not found, although this contact exists in the MetaDirectory.
The name search can be used to find the contact, and the phone number is also displayed in the contact details.
Possible reason/explanation
The <Tel. contractor> and <Tel. primary> fields are activated for the phone number search if a DATEV SDD replicator is set up.
The reason for this is that there are two flags in the DATEV workstation under the <Communication> tab that are always set for one of the entered phone numbers of an addressee.
Phone number fields – communication links – default and GL
These phone number fields Default (default connection) and GL (management) are mapped fix to the fields <Tel. companies> and <Tel. primary> in MetaDirectory and are also taken over according to the settings in the DATEV replicator wizard for all contact instances of the addressee as well as, if necessary, for new addressees that arise from the remark fields:
Example screenshot: DATEV master data – Addressee – Company/association

Example screenshot: MetaDirectory database wizard – DATEV Basis options – Apply phone numbers marked with "Default" and management to all contact instances of a contact person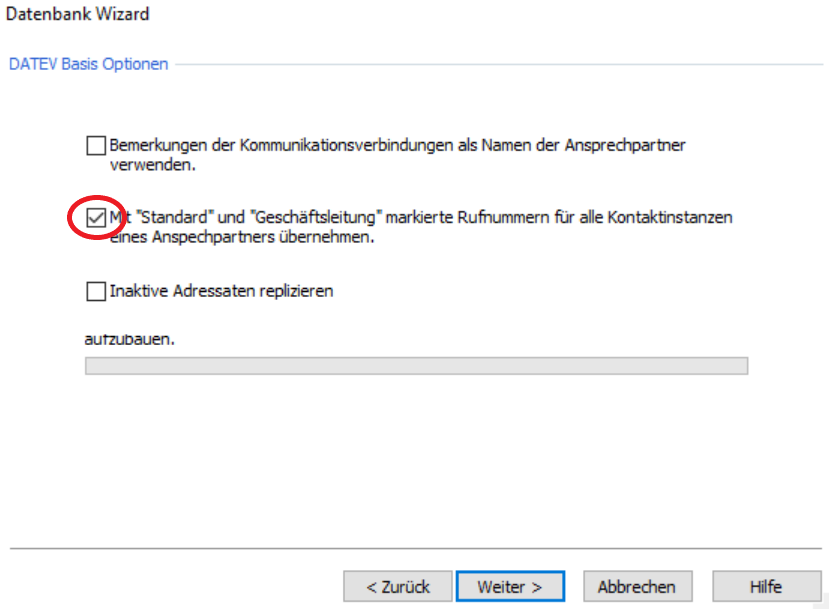 This makes these two call number fields particularly important for call number resolution in connection with DATEV Basis.
Replication: Sequence and number of call numbers to an addressee in DATEV
If the DATEV user has stored a particularly large number of phone numbers for an addressee (dynamically possible, since the communication table exists separately in the master data service and is related to the addressee), the phone number fields are filled one after the other in our static LDAP server and, if necessary, additional instances of the same addressee are added in order to accommodate all phone numbers. In this case, these phone numbers are only resolved if all hooks for the number search are set for all phone number fields.
Procedure
Set checkmark for number search for all phone number fields
estos MetaDirectory Administrator – Configuration – Search – Default search – Search fields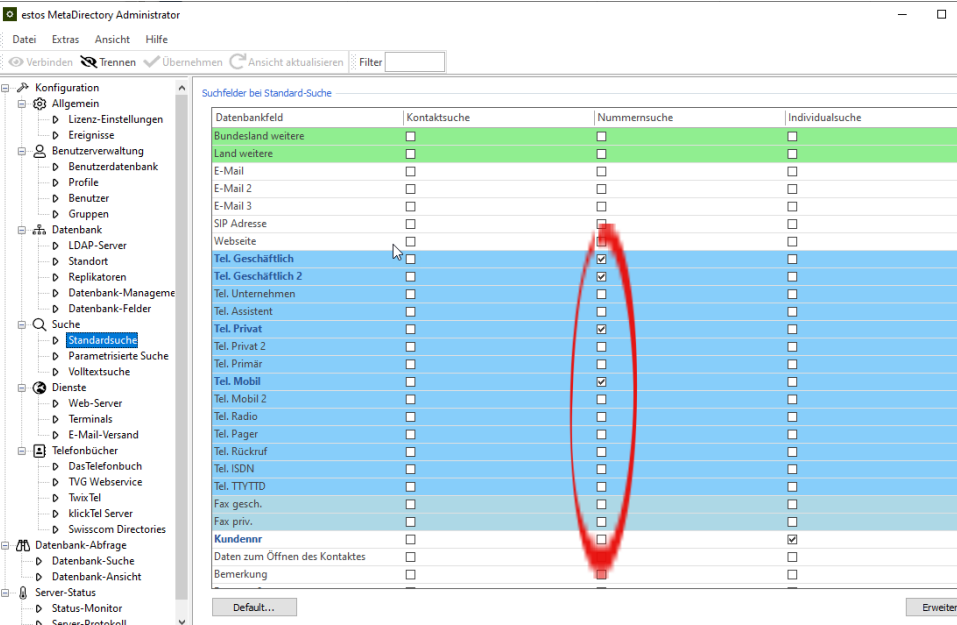 These check marks are not always set for performance reasons!
Further information
MetaDirectory and DATEV replication – inactive clients are replicated
Add database fields in MetaDirectory for LDAP searches